Five cruelty free brands you will love
Cruelty free makeup brands are brands that don't test their products on animals. In recent years, the trend of "going cruelty free" has been popularized, and buying brands that are cruelty free has been a way for people to protest companies that test on animals. Although these brands may seem hard to find, there are so many that are available on a scale from drugstore to high-end. On a blog called Cruelty Free Kitty, they have listed 101 cruelty free makeup brands. Here are my top five favorites.
Urban Decay:
Urban Decay, most popular for its eyeshadow palettes called Naked, can be found at Sephora and Ulta. Known for its edgy and bold makeup, Urban Decay also makes popular basics that are good for everyday looks. Since this company has so much diversity to it, it's really nice that it is cruelty free because you can get everything you need in one brand that doesn't test on animals (such a plus). My personal favorite product by this brand is the Urban Decay Naked Skin Color Correcting Fluid. Most of the products are in the medium price range, with this palette costing $52.
Physicians Formula:
Physicians Formula is known for not only being an amazing drugstore brand, but also for being cruelty free for a long time now. This can be found at Walgreens, Target, CVS, the list goes on. Physicians Formula makes glowy and bronzy makeup, and its most popular bronzer is the Bronze Booster Pressed Bronzer. The cost for this brand is friendly and starts around a few dollars.
Pixi:
Pixi is one of my personal favorite drugstore brands, so I'm very glad that they are cruelty free as well. Pixi not only makes makeup, but it also has skincare essentials. Pixi's makeup is so milky, and gives you the best dewey looks. This brand can also be found at any drugstore, such as Walgreens, Target, and CVS. My favorite skincare product by them is the Skintreats Rose Oil Blend, which allows your skin to soak up the hydration, becoming glowy and full. For makeup, I recommend the Large Lash Mascara. This mascara costs only $10.
ColourPop:
This particular brand can only be found online at colourpop.com. However, it will soon have products at Sephora. Colourpop is known most for its vibrant eyeshadows and lipsticks. This brand is perfect for colorful, neon products, and although it is only found online, the products are inexpensive. My two personal favorite products are the My Little Pony Palette, and the Cabana Boy Lipgloss.
Glossier:
The last brand on this list is Glossier, another online-only brand, which can be found at glossier.com. Although its products might seem pricier, they are such good quality. This is my personal favorite makeup brand, and I am so glad that it is cruelty free. Glossier is known for its makeup and skincare products that leave your skin looking dewy, natural, and most importantly – glowy. My favorite skincare product from the brand is the Invisible Shield Sunscreen because wearing a SPF is so important for your skin to keep it youthful and wrinkle-free, even when it is cloudy outside. My favorite lip product by them is Balm Dotcom, because it leaves your lips tinted, full, and hydrated.
Although going cruelty free when it comes to makeup is a super easy thing to do for everyone to help the animals, the cruelty free trend is most popular amongst vegans.
"Being a vegan, it makes me happy to know that cruelty free makeup is becoming a trend, as people are becoming more aware of what happens behind the scenes of some makeup companies," said Emily Goggin, junior.
While shopping you can even download cruelty-free apps, like Bunny Free, which allows you to search companies and products.
Do your best to go cruelty-free and remember to have confidence in yourself because that is what fashion is all about.
Leave a Comment
About the Contributor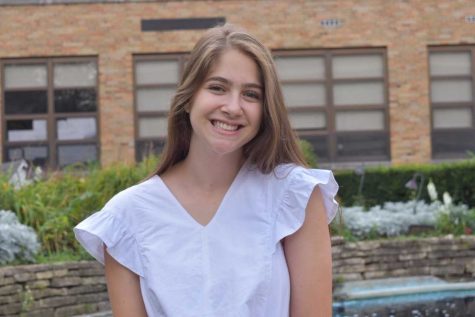 Thea Sankari, Section Editor
Thea Sankari is a senior whose sense of humor consists of nothing but dad jokes. You can catch her in the band room or binge-watching "The Office". She...