October favorites
As each month comes to a close, we all find ourselves obsessed with new products and old loves. Here are mine for the month of October.
Hair:
With the cold Chicago weather showing its true colors, I bet all of our hair has dried out. My favorite product to combat this is the Moroccanoil Treatment. This is a hair oil that you only need a little bit of for each use, so it's worth the $34. Whenever I put it into my ends, my hair instantly transforms, becoming softer, shinier, and silkier.
Makeup:
Wearing a primer is always a must, and with the cold air drying out all of our skin, it is important to have a very moisturizing primer. The Glossier Priming Moisturizer is just that. For $22, it leaves your skin super soft and moisturized, and allows your makeup to stay all day. Although this product might be a bit on the expensive side, it is well worth the money, and a little goes a long way.
When getting ready in a rush for school, the Clinique Beyond Perfecting Foundation + Concealer allows you to kill two birds with one stone. Being both a foundation and concealer allows this product to be super quick in the morning. I treat this as a high coverage concealer, and only it in the places I need to conceal things. However, if you choose to put it all over your face, as you would with a foundation, then that works as well. This product's dual capabilities make it a steal for $28.
Clothing:
Turtlenecks are really nice to keep your neck warm during the colder months, however they can sometimes feel a little suffocating. The perfect medium is a cowl neck sweater. My current favorite is the Faith Boucle Crop Cowl Neck Jumper from the store Boohoo because it keeps you warm but never makes you feel like you're overheating. In addition to that, it's super inexpensive and easy to style. This sweater is only $18. And while it was an October favorite, I can see myself donning this sweater in both November and December.
Ripped high-rise skinny jeans are always a must have in my closet. I wear them to school, when I go out, and everything in between. My pair from Forever21.com has become my favorite because it is surprisingly great quality, and I don't feel bad for roughing them up because they're pretty inexpensive. Having a good pair of jeans around is always beneficial because they keep you warm in the colder months, but the holes in the knees add an element of style. These jeans are around $25.
White slip-on Vans are literally the only shoes I wear to school and when I go out. For such an inexpensive pair of shoes at $50, they have lasted me months. Despite being so beat up, mine are still holding up really well. The checkered Vans have become popular recently, but you can never go wrong with just a plain white pair since they go with everything. Not to mention, these shoes are super comfortable. Since they don't have laces, they are super easy to slip on and off when you're in a rush.
Skincare:
It's important to use very hydrating masks in the winter. Clay masks are better for summer when you're skin is sweaty and oily, but sheet masks and hydrating masks are better for your skin when it's colder outside to replenish it with all of the moisture that is being sucked out. My personal favorite is the It's Skin The Fresh Sheet Mask because it is super inexpensive, but it works so well at rehydrating my skin after a trying day in the cold weather. My two favorite types of this mask are the rose and honey masks. Just one of these masks is $3.
"My favorite beauty product is from Urban Outfitters, and it's the Gourmand Shimmering Body Oil," said Kerri Kenney, senior. "It's a body oil that you can put anywhere to make your skin soft and sparkly. I especially like it now because the gold glitter gives me fall vibes."
No matter what your favorites are this month, always have confidence in what you wear because that is what fashion is always about. Stay tuned for my November must haves.
Leave a Comment
About the Contributor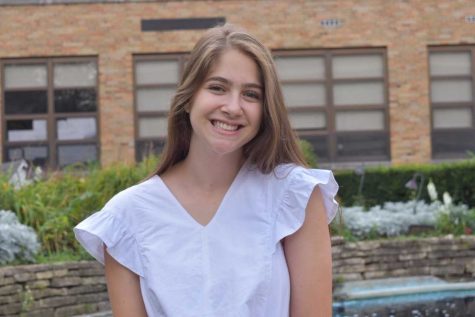 Thea Sankari, Section Editor
Thea Sankari is a senior whose sense of humor consists of nothing but dad jokes. You can catch her in the band room or binge-watching "The Office". She...