Your perfect guide to coats
Despite all the sweaters we can bundle up under, we all eventually have to face the music and put on our coats as the weather gets colder. As annoying as they can be sometimes, there are so many cute options out there for you to wear in the upcoming fall/winter months. Here is your perfect guide to coats and jackets:
Leather Jackets:
Leather jackets are a fashionable way for you to be warm this fall without wrecking your outfit. Surprisingly, a good leather jacket will never fail to keep you warm. The key is finding a leather jacket with good quality leather, whether it be real or fake, and maybe even one with fur on the inside, which can also be real or fake. Recently, my favorite jacket has been a leather jacket from Zara with faux fur on the inside. Called the Double-Sided Biker Jacket, this jacket has tons of zippers and cool details to it but still keeps me warm because it is lined with fur on the inside and is a heavy duty jacket. Priced at $89, this jacket is worth every penny and is comparatively inexpensive to other high-quality jackets that you will find.
Puffy Coats:
Truthfully, I've always hated puffy coats because they make me feel like a marshmallow. However, they are coming back into fashion, which is amazing because now puffy coats are being made to be cute, slim, and come in all different sizes and colors. Urban Outfitters has a really nice selection of puffy coats this season, and I'm obsessed. My personal favorite is the Silence + Noise Classic Puffer Jacket. This jacket comes in three colors, and I love the coat in red because it adds a pop of color to your outfit without being too obnoxious. This coat is $100, but will last you all winter. Compared to a Northface, this coat is similar in quality but less in price.
Faux Fur Coats:
Faux fur coats make any outfit immediately look classier, more expensive, and fluffy. These have been on trend recently, so almost any store you walk into will have these. Obviously, faux fur is cheaper than a real fur coat; however, they can still be a little pricier. Because of that, I prefer to look for my fur coats in places like Forever 21. They are surprisingly good quality and run much cheaper than ones from other stores. Forever 21 has a large selection of faux fur coats this season, but my favorite is the Boxy Faux Fur Jacket in the cream color. This coat only runs for $45 but keeps you warm, fuzzy, and classic-looking.
Bomber Jackets:
All of 2016 was wrapped up in a bomber jacket, and the trend has continued into this year. Because of that, bomber jackets can be found anywhere, for all sorts of prices and colors. The nice thing about the bomber jacket is it's thin, but still keeps you really warm. Since it is trendy, you never have to worry about this type of jacket killing your outfit. H&M is like a better quality Forever 21, so you can always count on them to have good yet inexpensive bomber jackets. My favorite from that store is the Padded Bomber Jacket, and it is only $35.
"I love coats. I love how they can completely create an outfit," said Kate Melvin, junior. "You can be wearing something super bland and basic and then throw on a jacket, and it adds a whole new vibe to the outfit. You can dress it up or keep things casual. My favorite jackets are jean jackets."
No matter what you rock this winter, just have confidence in what you wear because that is what fashion is all about.
Leave a Comment
About the Contributor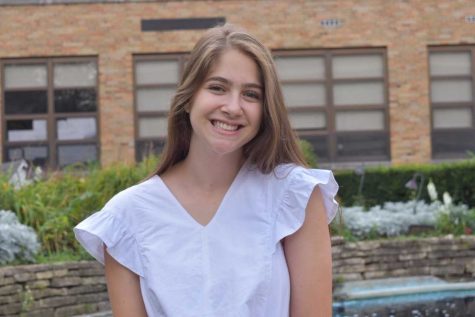 Thea Sankari, Section Editor
Thea Sankari is a senior whose sense of humor consists of nothing but dad jokes. You can catch her in the band room or binge-watching "The Office". She...