New York lookbook
Last week, from Thursday, Nov. 9. to Sunday, Nov.12., I went with my fellow marching band members, the choir, and the color guard team to New York to march in the Veterans Day Parade. Since New York is known to be one of the most stylish cities in the world, I decided to show you guys the cute yet practical outfits that I wore.
During the trip, the band directors gave us certain guidelines for our outfits because we had to dress nicer some days if we were seeing shows at night. Although most people were at a loss for what to wear, I took that as an opportunity to channel my inner Gossip Girl and dress super cute.
Outfit 1:
The first day was a travel day, so the directors said that we could dress as comfortably as we wanted to. Considering that it was nearly freezing outside, I decided to dress cute, cozy, and warm. I am wearing a dark green sweater from H&M (even though it looks black in the picture). I am also wearing a black jacket from Zara. My sneakers are black platform Vans sneakers, and my leggings are black Lululemon leggings.
Outfit 2:
On the second day, we had to dress a little nicer because we were going to see "Wicked" at night. Because of that, I decided to go for a nicer top and skirt duo. I wore a pink turtleneck and paired it with a black button up skirt. To keep my legs warm, I wore black thermal tights. For shoes, I just wore simple black booties and a Patagonia black coat.
Outfit 3:
Again, on this third day, we had to dress more formal because the band was going to see the New York Philharmonic, while the choir went to see another Broadway musical. I am wearing a black turtleneck sweater from Zara with a dark green skirt from Forever 21. To keep my legs warm, I wore black thermal tights with some black booties. Lastly, I am wearing my Patagonia black coat.
Outfit 4:
For the last day, we were asked to dress a little nicer but still casual. I went for a jeans and a cute sweater duo. I wore black distressed jeans, a black turtleneck sweater, and a black jacket all from Zara. Finally, my sneakers are black platform vans.
"I loved going to New York because I could express my fashion creativity in one of the most fashionable cities in the world," said Stuti Mundata, sophomore.
No matter what you rock this fall season,whether here or in New York, always have confidence in what you wear because that's what fashion is all about.
Leave a Comment
About the Contributor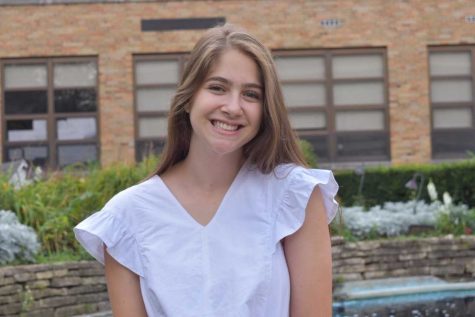 Thea Sankari, Section Editor
Thea Sankari is a senior whose sense of humor consists of nothing but dad jokes. You can catch her in the band room or binge-watching "The Office". She...