Five sweaters you need to have this winter
Although it hasn't been feeling like a true winter yet, it is still fairly cold outside. The best defense against it? Sweaters. There are so many sweaters that can make you feel cozy all the while keeping you stylish. Here are my top five this winter.
This first sweater is a white, fluffy turtleneck sweater from Urban Outfitters. Although it is a little expensive, it is most likely the comfiest thing you will put on your body. The classic white color of this can go with anything in your closet, and you can dress this piece up or down. The nice thing about this is it keeps you warm but you never feel like you're going to overheat. Although this sweater is a little bit on the pricier side at $70, it is definitely worth the money, and it would make the perfect Christmas gift.
This second sweater is an unique one but still is simple and cute. This star sweater, from Madewell, has been my favorite this winter. Again, this sweater is a bit pricier, going for around $98, but Madewell usually has sales around the holidays that make these sweaters more accessible. Again, this would make the best gift. This sweater fits the body in the most flattering way and gives your figure a lot of shape. The stars are actually a different material; they're suede, which makes the sweater have more texture and flare.
This next sweater is from Aerie, American Eagle. This texture sweater has been super popular recently. It is a suede, silky, soft texture. You can get these types of sweaters from anywhere, but I find that my favorite one this season is from American Eagle. I have this sweater in white because it can go with anything, although the sweater also comes in navy and purple. Currently, this sweater is 50 percent off for $27, so try to snag it while it is still in stock.
This next sweater is from H&M and is so stylish for being only $30. This sweater is a hoodie and is super fluffy. Whenever I am wearing it, it feels like I am about to go to bed in the softest bed I've ever been in. It is the perfect thing to wear to school because it keeps you warm and comfortable. Again, the white color of this sweater is easy to match with anything you own.
This last sweater from Forever 21 is only $23 but is so classic and chic. Being black and fitted with the flare of the ruffles makes this sweater really nice for evening looks, dinner parties, Christmas parties, and more. It can even be dressed down for school. This sweater is actually pretty thin, but that is good because some rooms in the school can get annoyingly hot.
"Big, comfy sweaters are my favorite. They are so easy to style for school and for the winter," said Ava Gaddis, senior.
No matter what you rock this winter, just have confidence in what you wear because that is what fashion is all about.
Leave a Comment
About the Contributor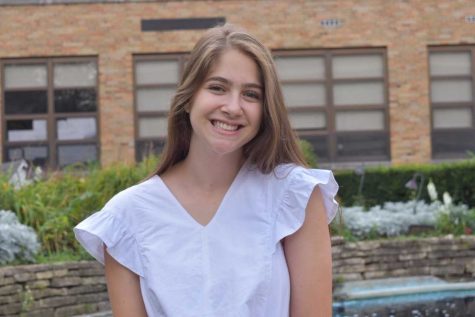 Thea Sankari, Section Editor
Thea Sankari is a senior whose sense of humor consists of nothing but dad jokes. You can catch her in the band room or binge-watching "The Office". She...