The perfect holiday look
With the holiday season comes holiday parties and a big struggle we all face: what to wear, how to do our makeup, and how to style our hair. It can be hard to find something cute yet simple to wear with every new dinner party. However, have no fear because this is going to be your perfect guide for hair, makeup, and outfits for holiday parties.
Hair:
For the holidays, it's always nice to do something with your hair that you normally don't do. For those of us who have straight hair, I think it adds a classy difference to your look when you curl it. A curling iron that I recommend using is the Nume Classic Curling Wand, which is $70 at Ulta.
If your hair is already curly, then change it up and straighten it. My go-to straightener is the Chi Ceramic Straightening Iron, also from Ulta. Normally, this straightener is around $100, but right now is on sale for $60. After styling your hair, for the most simple look, just leave it down. But, you could also bobby-pin it out of your face as well.
Makeup:
Although it can be fun to go all-out with your makeup during the holidays, having a simple and glowy look is always the nicest and the quickest way to go. Especially when you are spending time with family you normally don't see all that often, they would love to see your natural face. Going for a simple look of just CC cream (my favorite is from IT Cosmetics) and some mascara (I highly recommend the Dior Addict It Lash Mascara) is your best bet. Throw on some lipgloss, and you're good to go.
Outfit:
Sometimes, it can get annoying to wear a dress, but pants are too informal. The best in-between is a skirt/top duo. My go-to skirt for any holiday party is an Urban Outfitters Corduroy Skirt because the brown is an understated neutral but still looks super cute. With that I like to wear something white, preferably a turtleneck. You can wear tights with this if you want to, but I usually don't because you're not going to be spending much time outside anyway. For shoes I usually like to wear black booties with a slight heel.
"For a holiday party, I usually like to dress nicer and do something different so I can stand out," said Mia Gaddis, sophomore.
No matter what you rock this holiday season, just have confidence in what you wear because that is what fashion is all about.
Leave a Comment
About the Contributor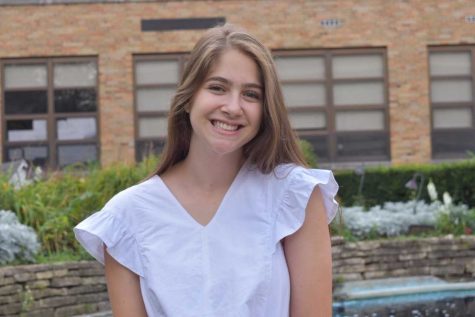 Thea Sankari, Section Editor
Thea Sankari is a senior whose sense of humor consists of nothing but dad jokes. You can catch her in the band room or binge-watching "The Office". She...