New season, new essentials
With the cold winter starting to come to a close, we can all say an eager hello to spring. Yes, it may still be a little ways away due to the climate here in Chicago; however, the days are getting sunnier, and the temperatures are starting to rise again. With the new season, comes a new set of essentials to get you through it, and here are the top five items that you need in order to welcome this happy time in with open arms:
A Cute Pair of Jeans:
With the weather so in-between, changing by the hour each day, it is highly unpredictable and finding an outfit can be hard to do. However, the perfect bottoms you can always wear to look cute and be comfortable is a nice pair of jeans. Jeans keep your legs warm if the weather is feeling a little cold that day, but they also don't make you feel sweaty if the weather is feeling a little warmer. The trendiest jeans right now are mom jeans or boyfriend jeans, and they are nice because they don't stick you your legs and make you feel sweaty. I recommend jeans from Urban Outfitters or Topshop.
A Floral Perfume:
In the winter, we tend to switch out our favorite light summer perfumes for a spicier, heavier winter perfume. However, the spring season makes us fall in love with lighter floral perfumes all over again. A spritz of a good floral perfume in the morning can start your new sunny days off perfectly. I recommend the perfumes Daisy by Marc Jacobs or Chanel No. 5 L'eau. A more inexpensive option, however, would be the rose perfume from Urban Outfitters.
A Hydrating Face Mask:
Whenever the seasons change, my skin isn't the only one that freaks out. Your skin doesn't know if it's dry outside or humid, and you tend to breakout. The best remedy to this is to not panic, and just get yourself a good face mask. My skin tends to be a lot drier during the winter and that carries on into the spring as well, so I gravitate towards more hydrating masks such as the GlamGlow Hydrating Mask. However, if your skin tends to be on the oilier side, then I recommend a clay mask, such as the Milk Makeup Urban Defense Mask.
The Perfect Sweater:
Again, it can be really hard to find an outfit that is perfect for the situations when it's cold in the mornings and hot during the day time. The best way to dress during these situations is to get a light sweater. The material keeps you warm, however, if the sweater is made of a lighter material, it won't make you overheat. I recommend sweaters from Zara.
A Sweet Blush:
A cute, sweet, pink blush is the perfect makeup product to apply during the spring season. Adding a soft pink to your cheeks brings the cutest color to it that must remind you of the adorable sunburns to come this summer. You can get the perfect blush from anywhere, whether it be drugstore or high-end. For drugstore blushes, I recommend the Maybelline Dream Bouncy Blush, and I recommend the Tarte Amazonian Clay Blush for a high-end option.
"My most important spring essential would have to be a good pair of sneakers. I can finally wear them because the snow has melted, and they keep my feet warm," said Rebecca Matthews, freshman.
No matter what you wear this spring, always have confidence in what you wear because that is what fashion is all about.
Leave a Comment
About the Contributor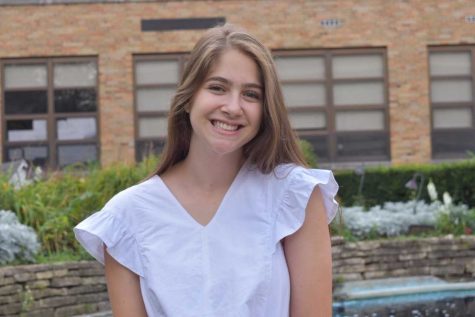 Thea Sankari, Section Editor
Thea Sankari is a senior whose sense of humor consists of nothing but dad jokes. You can catch her in the band room or binge-watching "The Office". She...