Prom Dress Survival Guide: Trends and styles
Prom season is slowly creeping up on us, which means it's time to find that dream dress you have been thinking about since freshman year. Choosing a dress can be stressful, not only because there are numerous options, but also because it's taboo to have the same dress as someone else.
In order to avoid the awkward sight of two girls wearing the same dress, there is a Facebook group where girls are able to post pictures of their dresses. This year, the group is named 'Hinsdale Central Prom Dresses 2018'. Anyone who is attending Central's prom can request to be in the group or add members who may not be a part of it already. To survive this slightly stressful time, here are five styles and trends to consider when shopping for your prom dress:
1. Ball gown
The first style to consider is a ball gown. Ball gowns are perfect for those girls that desire to create an elegant and luxurious look. The signature circular skirt of a ball gown can either be extravagant, sleek, or shaped in a way that creates a staggering silhouette. These dresses can also be embellished with tiered ruffles, satin or cut out necklines.
Additionally, ball gowns can have small details and features including intricate lace, bright colors, flowers and sparkling crystals. There are many unique types of ball gowns which comprise of dresses that are strapless, two-pieced or high-neck. With ball gowns, no matter what the look is, they all attract attention because of the fancy illusion they create.
"I'm all about being comfortable, and I like the style of fit and flare. I also really wanted something that was simple, but also elegant. Since my dress has a high neck, I can wear my hair down or up which I love. I really like the style, especially because it flares and has pockets," said Kaitlin Barbour, senior.
2. Two-piece
Another popular trend in recent years has been the two-piece dress. Two-pieces offer a classy, sophisticated style with a touch of glitz and glam mixed in. These dresses are for girls who may want to show a little more skin, which may be convenient when it gets warm on the dance floor. With a little peek of skin at the midriff, two-piece dresses have the ability to flatter your figure, giving off a youthful, yet elegant, vibe at the same time. No matter where you look for this style, there are chic and unique gowns available that include beaded long halters, sleeves, and sequins.
3. Lace
Lace dresses are also a popular prom trend because they promote a versatile and timeless look. Lace adds a touch of feminine charm to any dress. There are many individual styles of dresses that incorporate lace into them. While full lace evening gowns will provide a stunning look, there are long sleeve lace dresses, one shoulder dresses, and dresses adorned with lace accents that provide a modest look. Whether one wishes for a sleeveless dress with a lace bodice or a lacy gown adorned with breathtaking embellishments, both will create a pleasing effect.
4. Open back
Open back dresses make a bold statement at any event. These dresses are a fun and fashionable way to spice things up. There are many different types of open back dresses available. Some of these comprise of lace illusion dresses, deep v-neck dresses, one shoulder dresses with back cutouts, sleeveless halter dresses and embroidered mermaid gowns. All of these types of dresses share classic styles to showcase one's silhouette. With an open back dress, the back can be totally open or have cutouts. The ones that have cutouts may cross in the back or have some special design incorporated.
"I picked my dress after going to three different stores and trying on many dresses. When I tried the dress on I loved the way it fit and the ruffle down the back. I thought it was unique and fun," said Caroline Bowater, senior.
5. Prints
Another well known prom trend is cute prints. Dresses with prints let you show off your own unique personal style. Some prints out there are floral, animal, and polka dot, as well as those with bold, colorful geometric shapes. These can either exemplify an elegant or flirty look depending on what kind of print the dress has. What makes print dresses really stand out is the look of becoming a walking illustration of stunning patterns and designs.
With prom coming up on Saturday, May 5, many girls have already chosen their dresses, whether it be from an online store or places around town.
"I went into Peaches [Boutique] with a completely different dress in mind. I tried on three dresses for the three dress rule," said Lauren Freeman, senior. "When I tried the specific dress on, I fell in love. It looked like a dress that a princess would wear, and my mom started tearing up, so I knew that was the one."
In order to find the above styles and trends, it is critical to first choose a website or boutique to shop at. As for shopping online, the best websites are PromGirl, Lulus, David's Bridal and Jovani. If you want to search for dresses at a local store, there is Nordstrom, Von Maur, Macy's, Lord & Taylor and Peaches. The dress search is on!
View Comments (1)
About the Contributor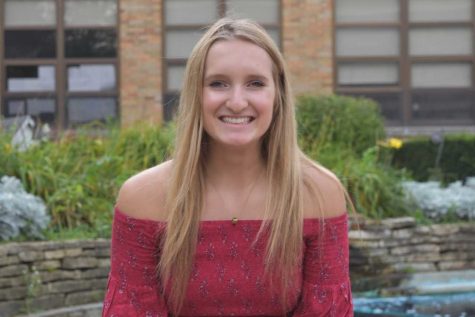 Sydney Seda, Managing Editor
Sydney Seda is a senior who loves to have a good time. You can catch her watching multiple episodes of Grey's Anatomy or volunteering at Hinsdale Hospital....