Boy's soccer team loses against rival LT
The Boy's Soccer Team lost against Lyons Township High School on Thursday, Sept. 20, 6:30 p.m. on Dickinson Field. The game was a close one with the final score at 2-1.
The game was very physical with the ref often blowing his whistle for fouls, with players tackling and running hard at each other.
Any game against LT is a much-anticipated game because LT is one of the school's biggest rivals. Central and LT were playing for the silver brick, a tradition that has lasted years.
"I think that [playing against LT] is challenging because there is a tradition in the rivalry; there are years of games being played," Coach Michael Wiggins said. "This was the fiftieth game in the history of the two schools playing against each other, the thirteeth one-goal game in the history of the series of games, and when you are playing for the silver brick, that makes it special."
During the first half, no one scored, with the first goal by LT occurring with 35 minutes and 28 seconds left in the second half.
2018 SILVER BRICK GAME | ⬇️

HC vs LT – Sep 20 at HC 6:30pm
✅ 49 Games in All Time Series.
✅ 29 One goal games.
✅ 2 Terrific schools.
✅ 1 Great game.

Learn more: https://t.co/vdIid5TDG9 @RedDevilsAD @ThisIsHCHS @HCSoccerBooster @LTHS_Athletics pic.twitter.com/d4ImVZBRBe

— Hinsdale Soccer (@hcsoccercentral) September 19, 2018
"We could be playing better but I'm seeing a lot of energy out here," said Molly Schnieders, junior and team manager. "This is the biggest crowd I have ever seen at a varsity soccer game and I really loved the chanting that was going on."
There were many chances for both teams to score throughout the first half making it very exciting to watch. Both teams played the ball a lot in the air, with players often heading it back and forth to each other.
"It was a tough one obviously, though we had control most of the time, we made a few mistakes and they capitalized on them," said John-Paul Lteif, senior forward. "You got to give them credit, they had a few chances and they took them, we had a bunch but we couldn't put it away."
Throughout the game, the referee stopped the game multiple times to tell players not to be so physical and award yellow cards. In the first half, two LT players and one of the Red Devils got a yellow card, and one LT player got a yellow card in the second half.
In the second half LT came out quickly in the first 20 minutes getting many shots on goal, however junior goalie Nathan Goliak repeatedly stopped each chance. One of LT's best chances occurred with 33 minutes and 24 seconds left of the second half. They were able to get a breakaway and Goliak was able to force the player into taking a bad shot.
"[The game] was very exciting, very evenly matched game, both teams playing at a high level like it's a playoff game," said Dan Jones, the athletic director.
During the second half, a LT player fouled one of our players causing a free kick to occur. Lteif stepped up to take the shot about 33 yards away from the goal. He kicked the ball low into the right corner, with their goalie being screened by other players making his reaction late, allowing the ball to slide into the net.
Jake Fraser scored the winning goal for LT in the last 10 minutes. There were many players in front of the net making it difficult to defend.
"I'm sure there are a lot of takeaways, but I think that the biggest is just the intensity of the rivalry," Coach Wiggins said. "There is a good chance we'll see them in the playoffs and you'll always better prepared when you have experienced the level of the rivalry."
The team's next game will be against Downers Grove North High School on Tuesday, Sept. 25 at 4:30 p.m. on Centennial Field.
Leave a Comment
About the Contributor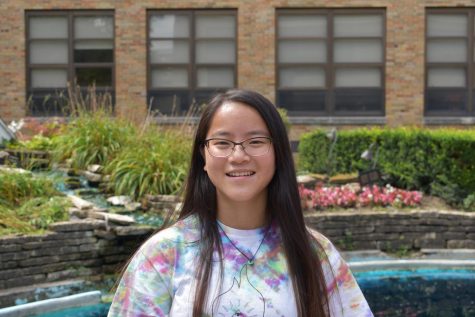 Lia Reichmann, Editor-in-Chief
Lia Reichmann, senior, is well versed in anything to do with Friends, Harry Potter, and sports. She likes to go backpacking and taking photos (follow @liareichmann_photography...