Central hosts "Volley For A Cure" fundraiser
Hinsdale Central hosted its annual "Volley For A Cure" fundraiser that supports Saint Jude's Hospital in conjunction with Hinsdale South on Wednesday, Oct. 9 at 4 p.m. Although Central lost the game, the fundraiser was a success.
The fundraiser takes place during Central's game against South, and its location switches between South and Central every year. 
Although the majority of the proceeds benefit St. Judes Hospital, a portion of the proceeds will also go to the Community House for their charity Willowbrook Corner, and a local family who is currently battling breast cancer.
The sophomore team and freshman A team played first at 4:30 p.m., in the gym and field house respectively. Varsity and freshman B team played next at 6:30 p.m. The freshman teams were victorious while sophomore was not. In between games, a serving contest was hosted in the gym. Middle schoolers and younger children alike competed for prizes such as t-shirts.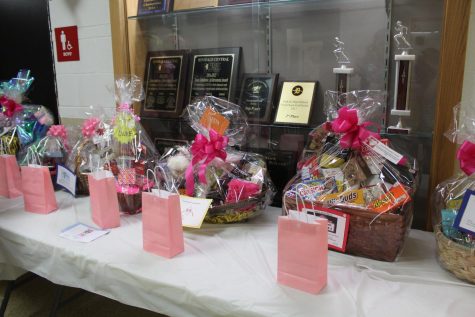 During the games, gift baskets are raffled for a price of $5 a ticket. The team accumulated baskets from businesses such as Magic Nails, Lululemon, Zazu, Ten Friends, and White Buffalo. Bake sale items were sold for $1 apiece and t-shirts went for $15. Bundt cakes were sold at lunch Monday through Wednesday for $5. There were multiple silent auction items, including a LifeTime Fitness membership and tickets to a Blackhawks game.
The teams also set up a photo background, in which visitors could take pictures and post with a hashtag to enter a virtual auction, with the goal of raising awareness of the event. 
A jar filled with jolly ranchers offered visitors the opportunity to guess the number of candy pieces inside for the chance of winning a prize.
Noha Ads, parent of varsity player Nilly Ads and Booster member, helped organize the event and explained the impact of the fundraiser.
"It is a great collaborative effort where kids come together to support a good cause," Ads said. "It really brings attention to St. Judes and also brings the two schools together to support a charity of their choice in a time of rift due to the buffer zone and referendum."
Coach Tracy Marshall has made adjustments to the program in the two years she has been the head coach. She wanted to promote leadership skills by having the players recruit local businesses themselves to support the cause and donate items for the raffle baskets. This is part of her five C's coaching plan.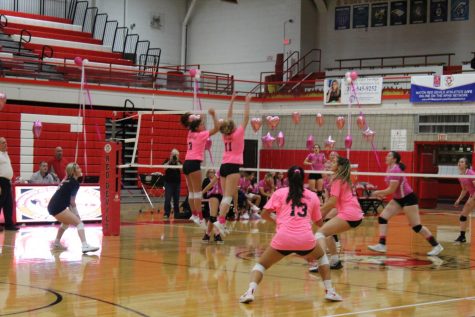 "The five Cs are camaraderie, communication, culture, community service, and community outreach," said Brooke Cooper, junior varsity player. "Each 'C' represents a program captain that was chosen by the players, and they each have a specific role they play in the program. Relating to the fundraiser, community service was the main 'C' that was put into play."
The fundraiser is not unique to Central and instead takes place across Illinois high schools.
"The pinkout games and Volley For A Cure have been going on in the state of Illinois for 15 or 20 years," said Dan Jones, athletic director. "It's a statewide event. Almost all the high schools have a Volley for the Cure event at some time during the season."
The girls' varsity volleyball team plays next this weekend at the Saint Charles East invite and their senior night is on Tuesday, Oct. 15.
Leave a Comment
About the Contributor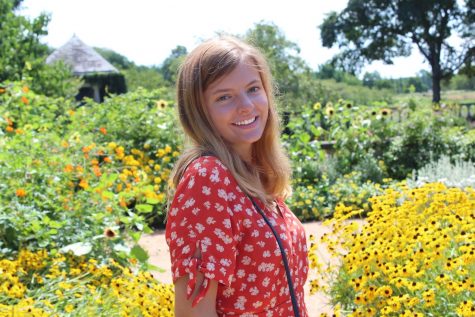 Sophie Burns, Editor-In-Chief




Sophie, a senior, is a second year member of the Devil's Advocate team. At Central, she is a mentor for Business Professionals of America,...