Volleying for a cure; Central beats Hinsdale South's Hornets
On Wednesday, Oct. 19, the girls volleyball team took on the Hinsdale South Hornets at South's campus. The Devils took a victory after two sets with a dominant JV win just before.
This game was called "Volley For the Cure" where both teams and their spectators wore pink to show their support for breast cancer awareness month, which takes place in October every year. 
During all of the game, South was hosting a raffle and a bake sale, all proceeds going to the breast cancer awareness cause. 
The game tipped off at 7:00 p.m. in the main gym at Hinsdale South. The gym had been decorated with pink balloons and streamers to match the two teams, who each had special pink jerseys. Many players on the Hinsdale Central side were also sporting pink makeup and pink hair powder, and some were given pink pom-poms.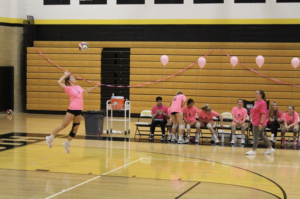 In the first set, seniors Erika Kalman and Kaitlyn Thick each asserted their dominance on the court. This was followed by juniors Grace Scott and Elizabeth Sessa each having some major plays to help bring the team to a decisive victory.
The first set ended 25-20 in favor of Central, and during the break, Hinsdale South named more raffle winners. 
The Devils started off the second set strong with Senior Amber Pelton serving. Peloton scored four points for the team before Senior Sara Ellthorpe stepped in and sealed the deal. The Devils finished the second set 25-19. 
The next game for the girls volleyball team is IHSA regionals, which will be held Oct. 24-27. These are followed immediately by IHSA sectionals, also being held away on Oct. 31 and Nov. 2.
The next opportunity to see the Devils at home will be on Nov. 4 at the IHSA Super-Sectionals matches, provided the team plays well at the two tournaments prior. 
Leave a Comment