On Tuesday, Sept. 26, the girls volleyball team took on the Glenbard West Hilltoppers, ending in a 2-0 set victory for the Hilltoppers.
The Devils kept it close in the first set, ending in a 23-25 point for the Hilltopers. 
"I think that we started off, in the first set, doing a lot of really good things," said Kelly Stapleton, head coach.
In the first set, the Devils had the lead 15-9 until a series of kills from Marin Johnson, Glenbard West's outside hitter, which tied the game 15-15. 
Story continues below advertisement
After this, the Devils pulled away once again in the lead with a score of 22-21. A dig by Breccan Scheck, Glenbard West's middle hitter, and a failed attempt to return it by Central's Lauren Niemen, junior middle blocker, tied the game. One more point would finish out the set for the Devils, ending in a Hilltopper set point.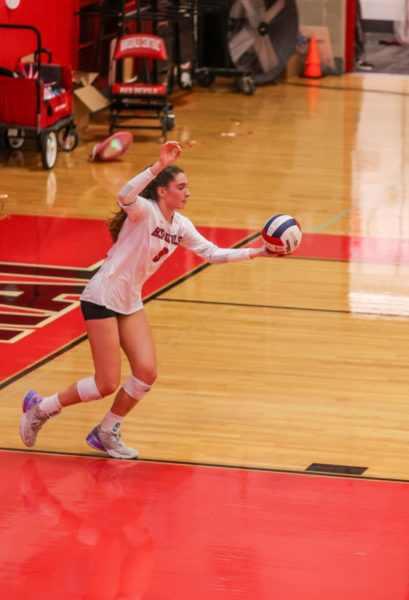 "Communication was our main issue last night," said Lade Adelakun, senior. "It was silent out there, [and] that's what really got to us."
Only two sets were played, and the Hilltoppers, currently second in the conference and fourth in the state, showed their dominance in the second set, outsourcing the Devils 25-16.
"I think that towards the end maybe we lost a little bit of focus on what the game plan was for the match," Stapleton said. "I don't think that last night was a very good representation of what the team has done so far."
A serve from Glenbard West's Kate Harvey set the Devils off on a wrong foot. Siena Steins, senior outside hitter and Wesleyan University commit, dove to try to save the point, hitting it out of bounds and giving the Hilltoppers a 3-0 lead.
"It definitely wasn't our best game," said Kendall Chen, senior setter. "We still had some good plays and the energy was still high."
Several players including Caitlyn Peterson, junior, and Elizabeth Sessa, senior and Brown University commit, worked hard to put the Devils back in the game. However, a series of serve returns caused the Devils to trail behind the Hilltoppers 9-5. Scoring only 11 more points, the Devils ended the second set in a disappointing loss. 
"Most of the matches that we have lost come down to the number of errors that we are making, so we are working on technical skills to try to cut down on those errors going forward," Stapleton said.
The Devils have two more conference games to improve their ranking. They play next on Tuesday, Oct. 3, at 5:30 p.m. at Downers Grove North.
To learn more about the team, click here.