Freshen up your wardrobe for the spring season
Sunday, March 20 marks the start of spring. Flowers are beginning to bloom, birds are chirping, and the air is gradually warming. It's time for your wardrobe to bloom too! Keep reading for a guide to the latest spring fashion trends.
1. Longer jean shorts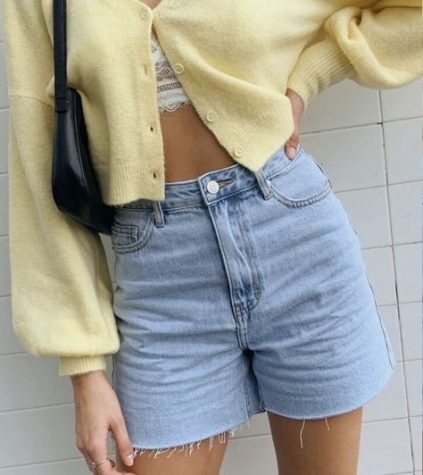 While short shorts were once all the rave, longer jean shorts are coming back in style this spring! Lighter washed jean shorts are a staple item to have in your spring wardrobe, they match anything and can easily be styled with a bright top or sweater. The longer short is also convenient for spring because it will keep more of your leg warm than if you were to wear shorter shorts. I recommended investing in a pair of Levi shorts. Although Levis can be pricey, they're worth it because of their excellent quality.
2. Chunky rings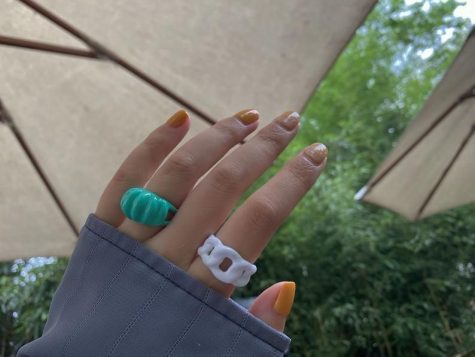 Chunky rings are such a unique trend featured this spring. They come in all different shapes and colors, and can be made at home with clay! Personally, I love how different each ring is and the inventive shapes utilized. However, if you would prefer not to make your own, the rings featured above can be found on Etsy for $17 per ring.
"I love chunky rings when paired with colorful nails, as seen on Emma Chamberlain," said Faith Drescher, senior. "However, on myself I prefer more dainty jewelry such as pearls."
3. Milkmaid dresses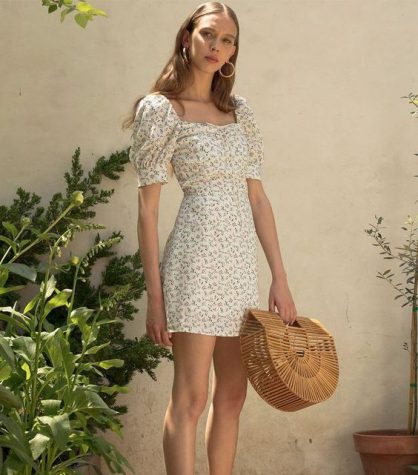 Not sure what to wear? Throw on a dress! Milkmaid dresses are so dainty and are easy to throw on for any day! Personally, I love the fit and flare style of milkmaid dresses. I also like the puffy sleeves which provide a bit of added warmth on cooler spring days. Milkmaid dresses come in many colors and can easily be accessorized with some gold jewelry, a wedge sandal, and a straw, structured bag. You can find different style milkmaid dresses from Target and Missguided.
4. Pilot sunglasses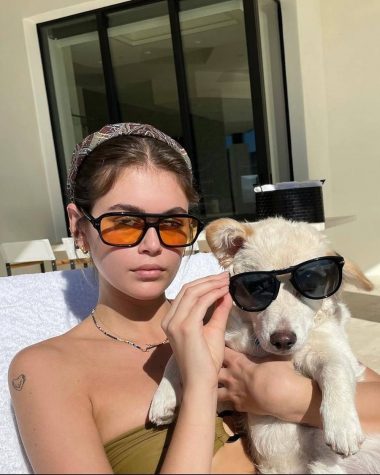 Chunky, pilot sunglasses are a statement accessory piece for this spring, and for years to come. They are the perfect item to tie an outfit together and add a street style vibe. I recommended looking at Youtuber Emma Chamberlain or model Kaia Gerber's Instagram to see how they style these glasses. Pilot sunglasses similar to those pictured above can be found on the Zara website for $50 and come in a range of colors.
"In 2021, elevate your rectangle sunglasses with a bright-colored, acetate frame," said Adrienne Faurot, freelance editor for Who What Wear. "From a smoky red to olive green, these colors are an instant uplift."
5. Colorful jeans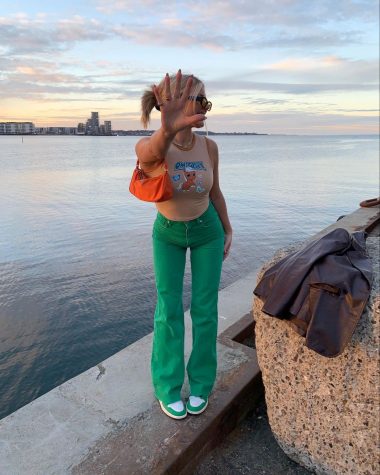 Colorful jeans are my favorite trend of the season. I love the pop of color and how the focus of the outfit is on the pants, rather than the top. You can find a wide selection of colorful jeans from Zara. For example, they sell the same green jeans featured above in pink and yellow. I tried to find a pair for myself, but they sell out fast, so keep an eye out for restocks!
"I love the colorful pants trend," said Olivia Costello, sophomore. "They really make outfits pop and add a sense of excitement to a plain, but cute outfit. I would style them with either a white or black shirt, depending on the color of the pants."
As the pleasant weather rolls in, feel free to treat yourself to a few new wardrobe staples. However, don't blindly buy an item just because it's trending. Think about what items you actually like and will wear at least 20 times. It's fun to go shopping, but it's also important to be sustainable and limit your fast fashion purchases.
Loading ...
Leave a Comment
About the Contributor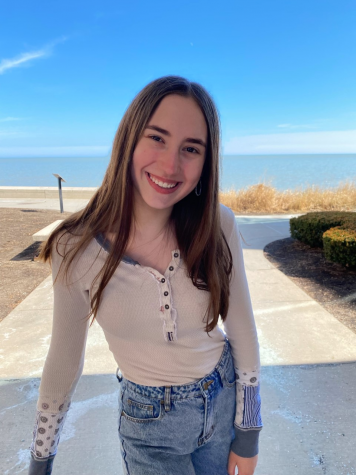 Lauren Witt, Writer
Lauren Witt is a senior who enjoys spending time with her family and friends. When she's not having movie marathons with her sister, you can find her...