Harry Styles' Love on Tour was a runway show
A closer look at the fashionable entourage and the star himself of the hit album's tour.
British pop icon Harry Styles recently finished his Love on Tour U.S.A. concerts, performing his Fine Line Album released in 2019.
The studio album of 12 songs is meant to convey a wide range of emotions, and seems to have a recurring summery theme.
The tour
consisted of around 42 shows and was initially scheduled for the summer of 2020, creating an even greater frenzy among fans to get
the best tickets and plan the most exciting outfits. This tour particularly has been viewed by many as an opportunity similar to a
fashion show, where fans have brought forth their most outgoing and fashion forward attire.
Though the Gucci representative is
known for his trend bending pieces that have sparked so much creativity and following, his stylists Harry Lambert & Harris Reed
have truly gone above and beyond this time.
But to truly appreciate his latest hits, let's first look at the photo below. Taken of a student at
Hinsdale Central, it represents the theme of Harry's older fashion, with flannels and t-shirts, it
was definitely a more casual, daily fashion. Especially so since it's a recurring ensemble that
teenagers today continue to wear, reminiscent of what some like to call Harry's Frat Boy era.
Many fans largely attribute his change in fashion and overall sense of style due to the image he was forced to project when he was a part of a boy band, as opposed to now where he has creative freedom and works as a solo artist. So, looking to the present, let's break down some of Harry Styles' most exceptional looks.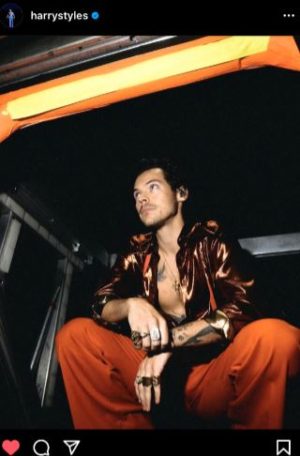 It simply isn't possible to talk about his looks without mentioning this stunning ensemble. Harry's outfit for St. Louis, it's a perfect combination of bold and daring, that includes the dependable components. Styles maintains his classic theme of button down, suspenders and long pants, as well as adorning his knuckles with various chunky rings.
The brightness of the pants on their own are a statement, but paired with the metallic sheen of the top it's a full perfect look, with the matching suspenders to tie it all together.
Though the details of the photograph certainly add to the allure of the clothing, it's safe
to say that the outfit spoke for itself throughout the show. And of course, it was later
topped off with the addition of a bright orange boa. Additionally, an honorable mention
to the show in Little Rock, a blue version of this which is equally dazzling and just as
alluring.
And saving the best for last,
we have Madison Square
Garden's look. It's chaos and
sophistication all at once.
Though it may not have
been Harry's intent, the
outfit almost represents a glamorous duality. The trimmed straight
nature of the pants and the blazer present an image of sharp elegance,
but the feathers lining the arms add a playful flair, perhaps hinting at a
mischievous undertone with the buttons undone.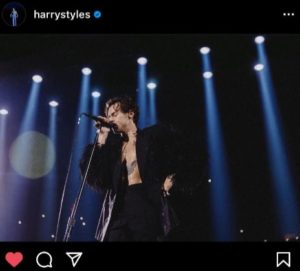 It's beautifully put
together, and the feathers in addition create an almost angelic
appearance, as though it's risen out of the modern base. It's charming
and sophisticated, and it's definitely not too soon to say that he's likely
influenced hundreds of lives with his fearlessness to experiment.
Click the link here to access the latest
merchandise from Love on Tour, and check out @hsloveontouroutfits on Instagram for more
information on Harry's concert looks!
Leave a Comment