Red Devils' varsity hockey team beats Lyons Township 8-5
On Monday, Nov. 14, the Red Devil varsity hockey team beat Lyons Township 8-5 in a penalty-filled affair at the Willowbrook Ice Arena. 
The Devils took a fast lead, with senior captains Zach Devine and Alexander Hadesman scoring 30 seconds apart early in the first period. Devine got his second after scoring shorthanded, bringing the Devils' lead to 3-0. 
Penalties by the Red Devils allowed Lyons to score twice on the powerplay, before forward Ben Ovnik tied the game at three. Senior Anthony Martirano appeared to have the tiebreaker shortly thereafter, but it was ruled no goal after referees determined the puck was kicked into the net. Martirano scored again a few minutes later, and Devine scored his third goal on the powerplay, putting the Devils by two goals. LT's Carter Storey scored his second of the period, and the second period ended at a score of 5-4. 
The game slowed down in the third period, and penalties on both sides became more frequent. Devine scored his fourth goal of the game less than two minutes in, scoring on the powerplay after a set-up pass by senior Sebastian DuFort. After a fifth goal from Lyons, Pete Cook scored the third and final powerplay goal of the game, receiving a cross-ice pass from Hadesman. Martirano finished the scoring with an empty-net goal.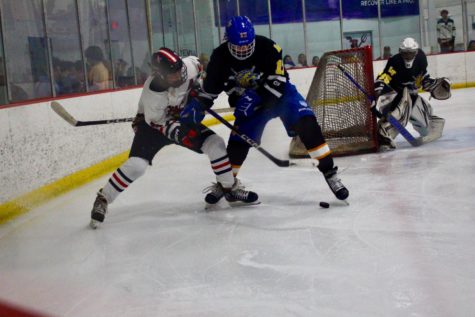 By the end of the game, the two teams combined for 72 total penalty minutes, including three 12-minute penalties for checking from behind.
Both Hinsdale Central head coach Spencer Anderson and Lyons head coach Benjamin Engle have been suspended for at least one game under Illinois High School Hockey League West rules, as both teams exceeded their 12 penalty limit during the game. Despite this, the team looks at this game as a statement win.
"It always gets the boys buzzing when you win like that," said Will Romberger, junior and defenseman. The game marks Central's 11th win of the season out of 13 games, as they look to hold their second place position in the IHSHL West division. "I think it's gonna work out. We're going to go far."
The Devils are seeking their next victory against Brother Rice on Thursday, Nov. 17 at Oak Lawn Ice Arena.
Leave a Comment
About the Contributor
Finley Bisch, Writer
Hi! My name is Finley Bisch and I am a senior at Hinsdale Central! I'm a cheerleader, runner and a member of the Devils' Advocate (obviously)! When I'm...