Varsity Red Devils beat Benet 5-4
On Tuesday, Dec. 20,  the Hinsdale Central Varsity Hockey team beat Benet Hockey 5-4 in a heated game at Willowbrook Ice Arena.
The first period ended uneventfully with a score of 1-1. At the start of the second period, Captain Zach Devine put two into the back of the net within 30 seconds of each other. This brought the Devils to a 3-1 lead and sent the student section into a frenzy.
Starting goaltender Miles Anderson left the game with a leg injury, briefly being replaced by senior Thomas Labno before returning later in the period. 
Captain Alexander Hadesman scored once at the beginning of the third on a pass from senior Pete Cook, bringing the score up to 4-1. Benet began to rally, and quickly scored two goals to bring the game back to 4-3. After a late Hinsdale penalty, a power play goal for Benet tied the game, stunning the Devils bench and home crowd.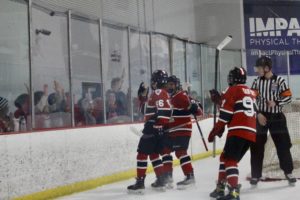 The game looked set for overtime, but with 30 seconds to go, Hadesman put a pass from Devine into the net to restore the lead and energy. Benet couldn't muster a second comeback, and the Devils skated away with the win.
Hadesman earned title of MVP thanks to his game winning shot, bringing the Devils record to 13-3-0 and helping them hold onto their second place standing in the Illinois West conference. 
This game broke the four year streak of Hinsdale losing to Benet, the first time the current seniors have won against the Redwings.
The Devils are set to partake in the Blackhawk Holiday tournament in Chicago from Dec. 27 to Dec. 30 where they will face off against Maine and LT once again. 
Leave a Comment
About the Contributor
Finley Bisch, Writer
Hi! My name is Finley Bisch and I am a senior at Hinsdale Central! I'm a cheerleader, runner and a member of the Devils' Advocate (obviously)! When I'm...