70 degree weather calls for spring fashion
Accuweather says that temperatures will tentatively range between 60 and 80 degrees Fahrenheit in the coming weeks. This means much more vitamin D, but it also means it's time to stow away fleece sweaters and coats and replace them with crop tops and denim shorts.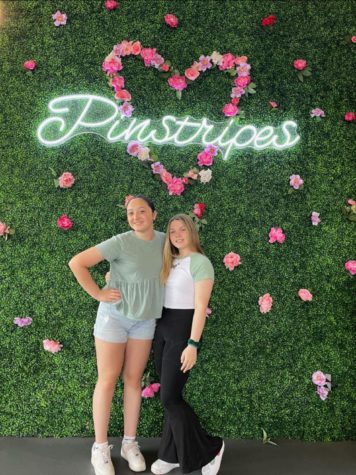 But as I look in my closet, I find myself searching aimlessly for the perfect spring outfit. So, if you're like me looking to update your wardrobe or find a new store with the latest trends, read below for recommendations shared by some of the top fashion magazines, fellow Central Students, and even TikTok.
According to magazines like Vogue, Elle, and Harper's Bazaar, items like baggy jeans, cargo pants, maxi skirts and crochet tops are perfect daily outfits. Spring is usually filled with florals and pastel hues, and currently, lime colors and rosettes (solid pastel-colored clothes) are in style. For a casual night out, a basic shirt with a patterned skirt is Instagram-worthy. And for those intermittent rainy days, a cute cropped jacket will keep you warm enough. 
Stores are putting their winter clothes on clearance and are shelving all of their new spring collections. Online shopping selections have expanded largely. So where is the best place to look? 
"I like American Eagle and I love Urban Outfitters," said Kaitlyn Montanye, junior, when asked about her favorite stores to frequent. "I have some great basic crop tops and tank tops from both. I usually wear sundresses [on nights out during warmer seasons]. I've actually found some cute ones from American Eagle."
Lauren Panveno, freshman, echoed similar thoughts. 
"My go-to outfit is a skirt with a cute top. I really like to wear my white Lululemon skirt with an Aerie top and converse," Panveno said. 
Presley Mulligan, sophomore, suggested Windsor for formal outings. 
"I have a red skirt from [Windsor] that I love to pair with baby tees." Mulligan said. She also mentioned that Shein, an online store, has a large selection of clothing. "I love the wide variety of tank tops and t-shirts it has for any occasion."  
When asked about underrated stores, Montanye and Mulligan recommended DryGoods while Panveno recommended online store Fancy D Boutique.
As for TikTok, the recommendations range from outfits to accessories to shoes. Particularly, the latest Pinterest-worthy aesthetics are cottagecore, coastal grandmother (think literally), mermaidcore and of course, loungewear. Trends from the 80s and 70s have both made a comeback this year such as flared trousers, wrap dresses, and platform boots. Other items possibly on your For You page may include Treemall Cloud slides, mini skirts, Birkenstocks, and tote bags.
WIth spring in the air and summer close behind, here's hoping that these few tips will give you a jumpstart for fashion.
Leave a Comment