On Friday, Aug. 25, Hinsdale Central's varsity football team faced off against Naperville Central on Dickinson Field at 7:30 p.m. Naperville Central beat Hinsdale Central, winning 14-10. 
In the beginning of the game, Finn Cain, junior, and QB Riley Contreras, sophomore, got Hinsdale Central their first scoring play, making it 7-1 after Naperville Central's touchdown. Joey Morrissey, senior, scored Hinsdale Central their first touchdown of the season to tie the game 7-7. Ardit Abdullai, senior, got the team to 10-7 before Naperville Central took the lead.
Friday's game marks the third year Naperville Central has defeated Hinsdale Central in the first game of the season. However, Hinsdale Central applied new offensive strategies to increase their amount of points scored and to counter Naperville Central's defense.
"We have a new offensive coordinator coming up this year," said Brady Koschik, senior. "We should have more accurate sightings into what [Naperville Central's] defense is going to do against that."
Story continues below advertisement
Within the team, the dynamic has stayed strong with an emphasis on working together as one unit.
"We're all one big family," said Koschik. "Coach Griffin talked to us about how we aren't just one individual…[and how] we need to work together or else we're not going to survive out there."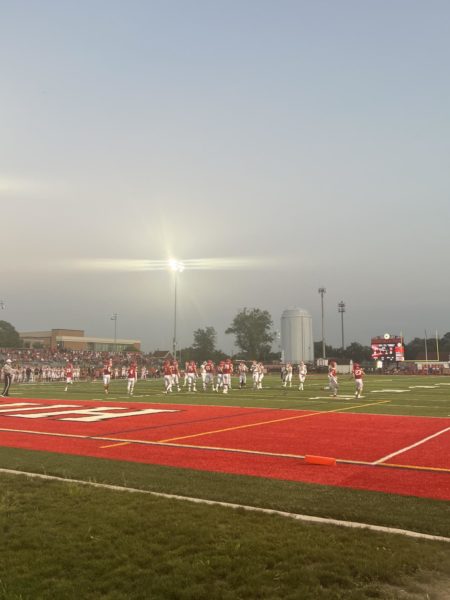 After a 4-5 season last year, Hinsdale Central has focused on increasing their overall wins this year.
"Our only focus is winning," said Mark Ortiz, senior and captain of the varsity team. "In practice, we're just electric and we're going to see that on the field." 
With Friday night's game being the first game of the season for both teams, Hinsdale Central and Naperville Central students filled their student sections. On Hinsdale's side, seniors wore togas to celebrate the varsity team.
"It's really fun to see the school spirit, especially with the senior section wearing togas," said Ren Pang, senior. 
Hinsdale Central's next game is on Friday, Sept. 1, at Bolingbrook High School at 7:00 p.m. To view the rest of the team's schedule, click here.