On Friday, Sept. 8, Lyons Township hosted Hinsdale Central in an anticipated game. At 7:30 p.m., Bennett Field was packed with a sea of red as varsity faced off against the opposing team, losing 42-17.
During the second quarter, Kelan McInerney, junior, scored a touchdown to make the game 14-7. Riley Contreras, sophomore quarterback, scored a rushing touchdown in the third quarter to close the game to 21-17.
Despite this marking the second year LT has beaten Central, efforts have not been lost. The team plans on making a comeback and going strong for the rest of the season.
"We're hoping to win every game from now on, go positive on the season and just keep moving through every week," said Jose Veliz, junior. "Take practice by practice, game by game."
Story continues below advertisement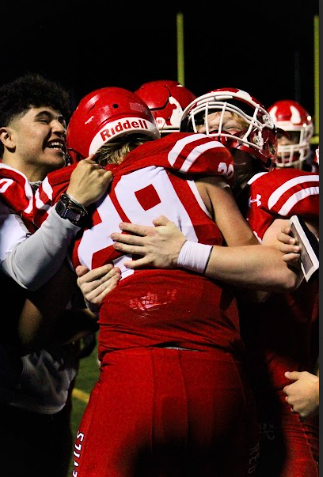 Though the team lost, the games still became a memorable experience for students. As anticipated by many, the student section dawned red Hinsdale Central gear to complete the Red Sea theme. 
"It's a mix of everyone in the stands working together, doing their job," said Will Reed, senior and social chair of Red Devil Nation. "[Red Devil Nation] has always done a great job of getting high energy, getting electric." 
Hinsdale Central's rivalry with Lyons Township has been a beloved aspect of school life in both communities for years. 
"There's a little bit of friendliness and a little bit of nastiness between the two groups," said Brian Griffin, varsity football coach. "When it's done right, it can be a very positive thing for both schools and in the communities at large."
The team's next game is on Friday, Sept. 15 against Morton in Berwyn. To view the rest of the team's schedule, click here.