On Friday, Sept. 29, the Devils varsity football team played the Glenbard West Hilltoppers. The Devils lost 42-21.
The Devils scored their first seven points during the second quarter with a 19-yard touchdown pass. They finished out the game with a 25-yard touchdown run during the fourth quarter to bring the score up to 21 points for the Devils.
The team has taken a few losses this season, having a 1-5 record. However, they continue to work together to improve their record.
"Before games I feel nervous but confident in myself and our team," said Eisa Saleem, junior and varsity football player.
Story continues below advertisement
During practice, the team has been working on making plays that'll improve their season and prevent losses.
"[We're] focusing on execution and also finishing points for the lesson," Saleem said.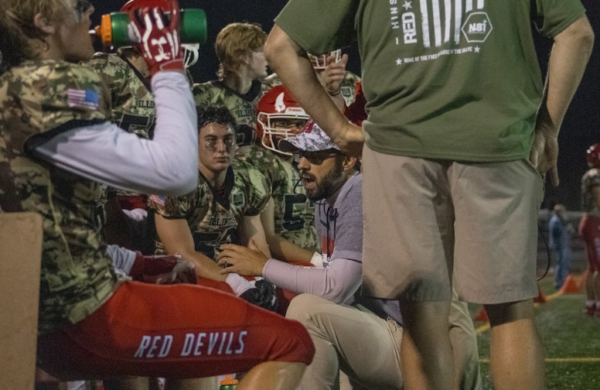 The Devils find that it improves their attitudes during the game when fans come to cheer them on.
"It definitely makes a difference when more fans come to the games," said Magnus Kumskis, senior and varsity team captain. "It really changes the atmosphere and can make games much more exciting to play in."
However, as the team fell further behind in points, the students section became more empty. 
"I think by halftime, pretty much the whole student section was gone," said Mira Cunningham, junior. "I definitely think it's important that we should stay for the whole game and support."
The night was a tribute to local veterans of the Hinsdale area. Prior to the game, there was a ceremony to honor the veterans and acknowledge their service. 
"I really liked that our team wore [camouflage] jerseys," Cunningham said. "I also thought it was a great way to honor the veterans and was pretty well designed."
On Friday, Oct. 6, the Devils will play at Proviso West High School at 6 p.m. To learn more about the team and their upcoming schedule, click here.