On Friday, Sept. 22, the Hinsdale Central football team played York High School for their Homecoming game. The varsity team lost against York with a final score of 38-10.
The turnout was big, with students and members of the community coming out to support their school.
"We came out to support [Red Devil Nation]," said Beatrice Murphy, junior. "The football game is a fun atmosphere where I can hang out with my friends."
Aside from the football game itself, there are other activities to enjoy like Booster Club sales and concessions. The boys swim team worked the concession stand during that week, selling drinks and snacks for the crowd.
Story continues below advertisement
"We worked quickly with the amount of people by clearing the walkways and just having a lot of people," said Andre Zhao, a member of the swim team. 
The poms team and the cheer team performed during halftime, alongside color guard and band.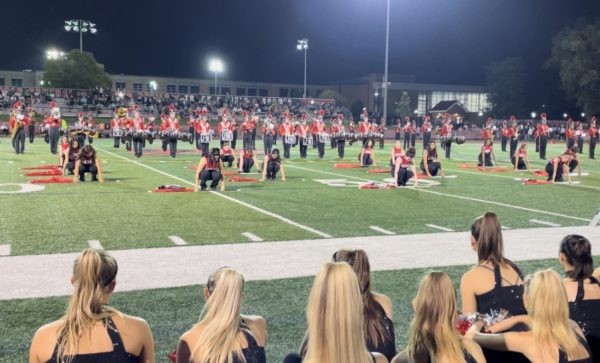 "In addition to seeing the football game, we also came out to see the cheerleaders and poms in their amazing performances," said Jack Doehring, junior.
People involved in the performance had many preparations in place for their routines. For example, the poms team and band had to prepare so they all could perform "Alma Mater." 
"It really only takes like one or two practices to get everything all set and we have to do a few practices with the band to do the 'Alma Mater' performance," said Leila Sullivan, a member of varsity cheerleading. 
The next football game theme is "camo." For more information, please click here.