A fashion lover's paradise
Blue ripped jeans showing hints of skin under glittery, starry tights hug her legs comfortably. Awe-inducing Vans with rainbow laces and soles are complimented by a rainbow striped sweater as it sits loosely across her shoulders. Dirty blonde hair cascades down her back in natural ringlets. She carries herself regally, unaware of the stares as she walks down the crowded halls in a mad rush to get to class. But for Gabrielle Sullivan, junior, standing out is where she thrives.
About six months ago, Sullivan applied for an internship at Nordstrom, the well-known department store. After a thorough and intense interview process in the spring ending with her acceptance as a Fashion Ambassador, Sullivan officially began meeting monthly with the group in the fall. Recently, I sat down with her to address all the questions of people wondering where her passion has taken her, along with this one of a kind opportunity to be hands on in the field.
According to Sullivan, her monthly meetings are the most productive during the busy holiday season. The group of professionals and interns discuss marketing strategies and public relations, trends for the fall and winter seasons, as well as corporate job descriptions regarding Nordstroms' buyers. And Sullivan has certainly seen the benefits of working as an ambassador.
"[The internship] has made me more aware that I can do business while also incorporating by passion for fashion," Sullivan said. Working as an ambassador has helped her realize that she wants to work in the more corporate side of the fashion industry, not the design.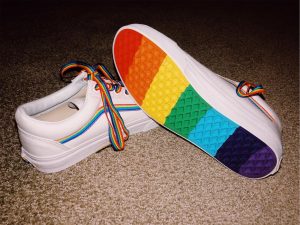 Since she is so hands on in the field and gets the inside scoop on all the hottest trends, Sullivan's taste must be impeccably in style and fashion forward. "Urban Outfitters [is very in] right now because they have a good fall and winter collection this year," Sullivan said. She attests to other stores like Free People and Brandy Melville to being a few of her favorites as well, as it suits her minimalist, colorful, and trendy style.
Even friends of Sullivan have witnessed her budding career in fashion blossom right before their eyes, but to Hayley Johnson, sophomore, this isn't new. "She always noticed the little things about clothing, the delicacies," Johnson said. "Gabrielle has a good eye for detail and puts effort into everything."
According to Hayley, this, coupled with her hard work ethic, as well as her "effortless, feminine and detailed" style gave Sullivan the perfect platform to create a fashion blog on Instagram six months ago.
Her account @styledbygms has gained a steady following base and serves as a virtual clothing lookbook of all Gabrielle Sullivan approved outfits. From layering advices to Nordstrom exclusives, Sullivan works to maintain her integrity as an influencer while also targeting her specific audience.
"She preaches self confidence and dressing for yourself, not others," Johnson said.
But juggling monthly meetings, school work, varsity tennis, and her ever growing fashion blog can be a lot to handle, so to Sullivan the most important piece of advice she could give to someone with the same passion is to remember your individuality.
"Make sure that you have your own voice in terms of what you are waiting for…Don't fall into the crowd of basic fashion choices," Sullivan said.
Be on the lookout for style trends and winter outfit options on Instagram at @styledbygms for more of Gabrielle Sullivan's journey to achieve her dream.
Leave a Comment