Forensics puts on a show
On Feb. 10, the Forensics team ran a showcase that featured a variety of events displayed throughout the day in the auditorium open to all students and classes. Some events performed included Performance in the Round, Dramatic Interpretation and Humorous Duet Acting.
The showcase allowed the Forensics team to prepare and practice for sectionals and state, given their success this year. They aim to win state, as they did in 2015.
One of the events included a Performance in the Round (PIR) titled "A Love for the Ages" by Matthias Austin, a professional actor, and Erin Oechsel, a professional actress. It's a 15-minute play performed in 15-foot diameter circle with judges on every side.
"What was weird about the showcase was performing it flat on a normal stage rather than in a circle, but the showcase is a great opportunity for the regional team to perform in front of an audience and get a better understanding of how people will react to our pieces during sectionals or state," said Ginny Jablonski, who performed in the PIR.
Another performance was a Dramatic Interpretation (DI) by Jake Youngman, senior, which is an eight-minute speech that performs a dramatic interpretation from a play or monologue. Usually, the pieces are about something sad or depressing to appeal to the audience's pathos.
"In my speech this year, I play a soldier being discharged from Iraq because of irrational and alarming behavior that he is exhibiting due to PTSD that has gone undiagnosed," Youngman said.
Not only does Youngman perform DI, but he also Humorous Duet Acting (HDA), which is an eight-minute scene between two people who try to convey some funny or comedic scene using acting and the three props allowed: two chairs and a table. Members will use them creatively to make beds or cars.
"In our piece this year, I play an old, angry janitor that is loosely based off of the prospector from the old loony toons cartoon," Youngman said.
Marshall Moller and Mackenzie Huber, seniors, performed Dramatic Duet Acting (DDA), which is an eight-minute performance with the same three props allowed as HDA, only it isn't humorous, but rather intense.
"I noticed people were crying in the audience and were really impressed with our piece, so I think my partner, Mackenzie, and I did very well. It was a lot of fun," Moller said.
"Our team has done record-breakingly well this year so far, leading us up to state," Youngman said.
As of Feb. 11, Forensics will be moving on to state, The showcase gave the team the feedback they needed from the audience. Whether it was either by crying or laughing, all reactions helped the performer determine the intensity of their piece and strength in conveying it.
Leave a Comment
About the Writer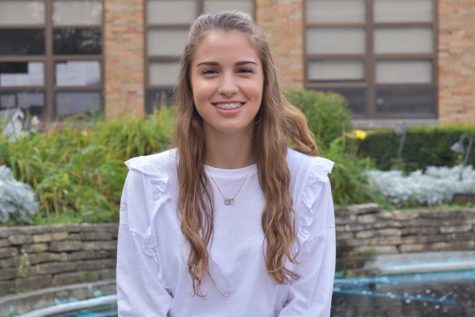 Samia Douedari, Section Editor
Samia Douedari is a senior who enjoys to write whether it's for a class or for fun. Along with being a part of the cross country and track team at Hinsdale...