MSA hosts second tournament to benefit students and charities
On Feb. 19, the Muslim Student Association (MSA) held their second basketball tournament this year. Fourteen teams of five people competed in ten-minute long games, and the winning team was able to win two Chick-fil-A gift cards and one Chipotle gift card.
MSA hosted a previous basketball tournament on Jan. 15, and 12 teams participated. The event became a way for the club to donate money to build a school in Rawalpindi, Pakistan.
"We decided to do a second tournament because the first one was such a success, and we had a lot of guys asking us to do another one," said Noor Jibrin, senior and advertising manager.
The system used allowed students to move on in the tournament, despite one loss. Many favored the system, making this tournament more enjoyable and fair.
"We started out with 14 teams, and we had a winner and loser bracket with a double elimination set-up, which meant that you could play again, even if you lost. I thought it was fair and really fun," said Nicko Ladesma, senior.
After the 12-minute championship game, people were welcomed to the cafeteria for free pizza, chips and candy. Then, the winning team was rewarded for their hard work. The basketball tournament allowed anyone from different high schools to join, and the winners were from Willowbrook High School in Villa Park.
"I had a lot of fun. Basically all my friends from all over Chicago came, so I had a great time," said Omar Shaikh, sophomore and event coordinator.
"The second tournament was really successful because word came out about the first game, so people who didn't come to the first one had a chance to play this time. We got more people this time than the first one," Jibrin said.
MSA's basketball tournaments are popular among students, and they also help the club expand as they raised about $1,000 from both of the tournaments. Just as they did after the first tournament, students are asking for a third round, which may be planned for later this year.
Leave a Comment
About the Contributor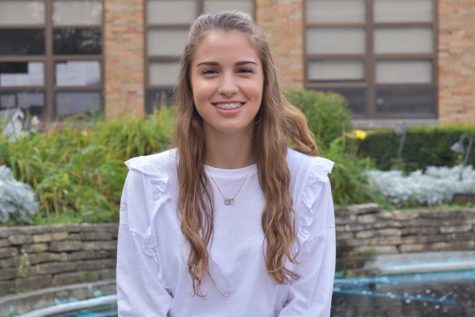 Samia Douedari, Section Editor
Samia Douedari is a senior who enjoys to write whether it's for a class or for fun. Along with being a part of the cross country and track team at Hinsdale...