Evolve club members attended Operation Snowball, a retreat in Frankfort from Nov. 3-6 in a camp-side area.

Operation Snowball is a nationwide organization that spreads awareness of the usage of drugs, alcohol and behavior of teens. Overall, it is a club that emphasizes the improvement of mental health.
"This club is about breaking the stigma around mental health," said Victoria Dzanda, junior and director in chief. "We work a lot on bringing a positive mindset and reinforcement into the environment at school as it can tend to be negative especially with teens at this age." 
In Evolve, students are mainly in charge of planning the retreat. Club members meet every Wednesday morning with students from Hinsdale South to plan the event.
Story continues below advertisement
"The best thing about Operation Snowball is that it is a student-controlled club and everybody helping to put together the retreat is so nice and positive," said Kennedy Boyd, senior and director in chief.
The Operation Snowball retreat is centered around games and activities, offering students the opportunity to bond and create an environment to understand the stigmas surrounding mental health.
As well, the club organizes Red Ribbon Week in school from Oct. 23-27 to spread awareness about drug usage and harmful substances. They also host speeches from Erika's Lighthouse to promote positive mental health.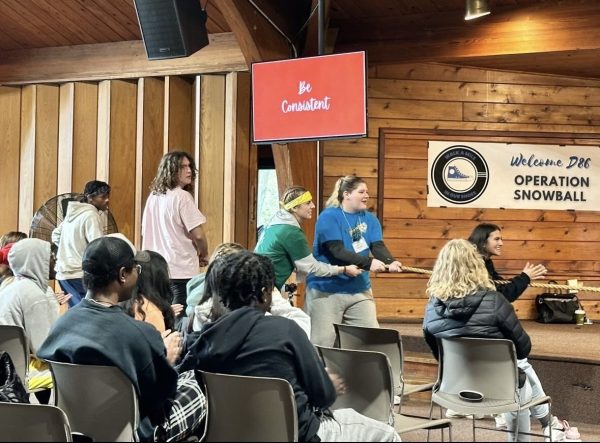 "I get so excited every year because it is so much fun and…it is almost like a break from reality," said Presley Mulligan, junior. "You're in the woods for three days and you are constantly playing a game, doing an activity, or getting out of your comfort zone."
During the retreat, several activities and games were held including tug of war, gaga ball, a neon themed dance and a bonfire. 
"We end our time at camp with a bonfire and a movie night which all of us enjoy and look forward to," Boyd said.
Many club members have reported their positive experiences surrounding the retreat and their mental health. 
"I have not met one person in this club who does not enjoy it," Mulligan said. "When we go on our Operation Snowball retreat, it brings so many people together and makes people smile, laugh and cry."
To learn more about Operation Snowball, click here.