Poms hits the floor for Homecoming's pep rally
Hinsdale Central Poms are getting ready to show their homecoming routine to the entire school on Sept. 27 at the annual pep rally.
The pommers have their seniors make the routine, but the captains, which are Olivia Parrillo, Brynn Kuhlman, and Rachel Tompson, have a big role when it comes to making the routine, as well as teaching it and perfecting it.
"The captains choreograph all of the dances throughout the season, which includes finding and cutting music and making formations. We then teach the dances to the team and make sure everyone's questions get answered," Tompson said.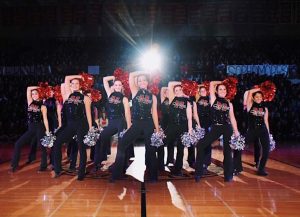 All pommers must uphold the values of the team, which includes academics, respect and kindness.
The routine this is year is different, with the poms trying to go out of their comfort zone and trying something new.
"Something new we are trying this year for the dances are different moves," Kuhlman said. "A lot of people, as well as ourselves, have realized that we tend to use similar moves for every dance, so we are branching out and creating different dances."
With this being one of the most important routines of the year, the seniors are especially pumped.
"The homecoming pep rally is easily my favorite performance of the entire year. We have all worked really hard and I'm excited to see how it turns out once we put everything together (the dance, lights, music, uniforms, etc.)," Tompson said.
Fans will find additional performances at football and basketball games.
Leave a Comment