Girls' golf places first at sectionals
On Tuesday, Oct. 13, the girls varsity golf team attended the IHSA sectionals at the Silver Lake Country Club in Orland Park, Ill. The girls placed first in the match with a final cumulative score of 312, beating Sandburg High School by three strokes. The girls previously won conference and then the regional competition, leading to an undefeated season.
Sectionals was a big meet this year because the state championship was cancelled due to COVID-19.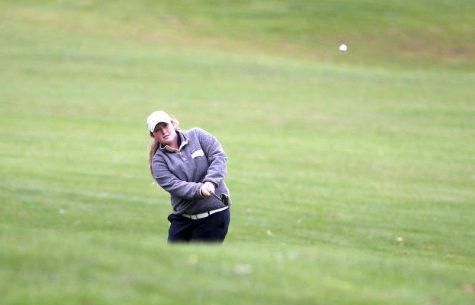 "We all wanted to do the best we possibly could because we knew that this was the closest we were going to get to a state tournament," said Emily Ascher, senior and team captain. "Because of that, we all had each other's backs."
Although golf is an individual sport, teamwork is essential. Players support each other in order to compete well under pressure.
"Though golf is a very individual and independent sport, teamwork is something that still is needed for us to do well in any of our tournaments," said Libby Larson, junior golfer. "During sectionals, it was being able to play for the team and know that every teammate is working hard to do well so we can do well as a team. It helped me to know that no matter how I played that day, my team would be there for me."
The team prepared for sectionals by playing practice rounds at Silver Lake to get familiar with the course. They also had independent practice days to work on what they needed.
"When it comes to drills we normally did a lot of lag putting drills as well as chipping into buckets to improve our short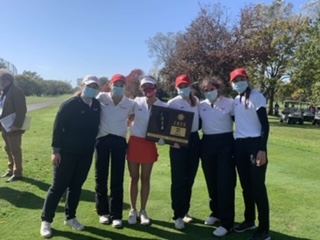 game," said Julia Ditrani, junior golfer. "Leading up to sectionals we all spend hours and hours at the range hitting to improve our games as much as we can."
The hard work paid off as the golf team completed an undefeated season.
"The season went really well," said Rei Hemmer, senior golfer. "We were undefeated which was really nice, but I think more importantly well all got along really well, which made it fun."
The varsity team is coached by Mr. Nick Latorre, business teacher.
"We are very grateful that we were able to have a season and very happy that we were able to play at a high level and win our conference, regionals, and sectionals," Latorre said. "There was a lot of gratification with how the season went and winning isn't always the most important thing. We were very grateful we were able to have a season and compete."
The conditions started out perfect but it got windy towards the end.
"Since we didn't know how we were all doing while we were playing, I think we were all a little nervous about what we had to shoot to win," said Sarah Thornton, sophomore golfer. "I definitely could have added a lot of strokes if I lost focus, but Coach Latorre really helped me get back into the game because I didn't want to let the team down."
You can visit the IHSA website for more information on individual scores and placing.
Leave a Comment
About the Contributor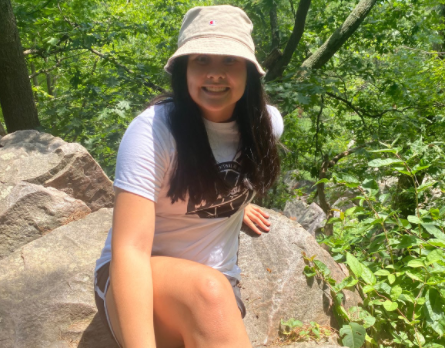 Gabi Camara, Writer
Gabi, a senior, is beginning her first year as a member of the Devil's Advocate team. When not a cross country and track practice, you can find...