Boys and girls golf finish top three in state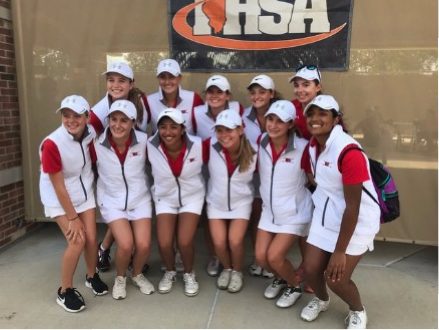 On Saturday, Oct. 14, the boys and girls golf teams both had top three finishes in the State Finals. The girls team finished third in their hunt for State at Hickory Point Golf Club in Decatur, Ill. The boys finished first at The Den at Fox Creek Golf Course in Bloomington, Ill.
Although both teams are happy with their results, their winning histories show that top finishes were well expected. The girls team snapped their streak of first place finishes, but are not discouraged by their results.
"[Senior] Roshannah Gaur played really well both days. She ended up three over in total for both days and ended up placing in all-state. [Junior] Gillian Filer also had two great rounds, I think the second day she played her best round in a tournament shooting 75," said Natalie Spitzer, junior team member. "[Junior] Grace Owens struggled a little bit the first day but still played really well, she came back the second day with a 78. [Senior] Ella Smith had two strong rounds both days below 80."
At the same time, the girls team believed that their chemistry was what ultimately gave them an advantage over other teams.
"The team has always been really close for the past three years, but I think this year especially we all really bonded with each other, partially because it was smaller team than last year. Another thing that was extremely different was we were the underdogs this year," Spitzer said. "The past two years other teams used to be intimated by us, but this year no one expected us to place. I think that motivated us as a team a lot, and we wanted to prove wrong to everyone that didn't see us as a threat."
For the boys, Mac McClear and Josh Lundmark, juniors, both had top-10 finishes. Lundmark's performance was carried by his first day, during which he shot a 69. This is the sixth year in a row which the boys team has won state, but losing star players such as Brendan O'Reilly, who is currently golfing at the University of Illinois, made it difficult.
"It would have been very disappointing if we lost because then we would lose our streak. This year makes it six years in a row, one away from the record," said Will Bradley, senior team member. "We didn't have Brendan O'Reilly, so people had to step up into the number one spot and perform well."
But, at the end of the day, both teams finished top three in their division for golf once again. Although a common result, Gaur believes that this year's team was different than that of her other years.
"Being that this season was my last along with the other five seniors on the team, this season was really special. We went into this season having lost four of our top six players. We all knew that it would be an uphill battle to enjoy success this year. We struggled a bit early on, but as the season went on we started playing for each other and the team's success," Gaur said. "In the years past the team always went in as a 'favorite,' but this year with the expectations for the team a bit lower we were all able to perform our best when it mattered most. Looking back on the season, it's really awesome to see how much we were all able to grow together and how much closer we all got by the end of the season. All the teams I have been a part of have been memorable, and this year's group is no different."
Leave a Comment