Girls gymnastics takes first at home meet
On Wednesday, Nov. 29, the girls gymnastics team hosted a quad meet in the field house. The team placed first overall in all levels after competing against teams from Sandburg, Lemont, and Riverside Brookfield.
"The team performed very well and I was very proud of everyone because it's still the beginning of the season," said Lily Jones, senior member of the varsity team. "Of course there is room for improvement, but the team is off to a very strong start."
The varsity meet had a couple of top scorers, including senior Amanda Leon with a 9.35 on beam, freshman Kiara Harrast with a 9 on beam, junior Kristin Moser with an 8.4 on floor, and senior Jessica Sprong with an 8.75 on floor.
"It was really fun competing again. I missed it in the off season," said Elizabeth Floersch, junior member of the varsity team. "I get super nervous before I compete. I get a lot of adrenaline and have to keep moving because I get so much energy."
The team practices every day after school. They condition, learn new skills, and make up their routines at practice.
In girls gymnastics there are four events: uneven bars, floor, beam, and vault. Some girls compete all-around, meaning they do all of these events, while others specialize in events and may only do one.
"My favorite event is floor because I love tumbling and dance and when you add music to those you get this excited rush kind of feeling and it's fun," said Amy Counihan, sophomore member of the junior varsity team. "Personally, the meet went pretty good on all events except beam."
The team's next home meet is Wednesday, Dec. 6 against York in the field house.
Leave a Comment
About the Writer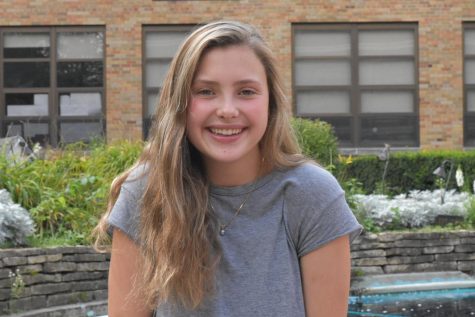 Leah Stevens, Section Editor
Leah Stevens is a senior who is constantly seen with a smile on her face and she loves to make people laugh. She lives by the motto "YOLO", and if you...