Girls gymnastics defeats rival Lyons Township
The girls gymnastics team competed against their biggest rival, Lyons Township High School (LT), on Wednesday Jan. 17 at an away meet. The girls were able to pull out nearly an eight-point win against LT with a score of 137.5 to 129.75.
"When we first got to the meet, the environment felt pretty tense, but as the meet progressed everyone started to loosen up and have more fun with it," said Kiara Harrast, freshman and varsity team member. "Since LT is our biggest rival, the team felt more pressure to win."
Harrast got a new high score on beam, scoring a 9.35, while team member Liz Floersch, junior and junior varsity team member, got a highscore of 7.0 on floor and a highscore of 7.3 on vault.
"I competed well on beam at the meet tonight," said Jaci Dynis, sophomore and varsity team member. "I like beam the best because it's really easy to control all of your skills."
Some girls compete all-around on the team, meaning they compete every event. However, other gymnasts, like Dynis, specialize in one or two events. In her case, it's beam and bars.
"Since LT is our biggest rival in the conference we put our best lineup forward on every event and each level," said Katie Courtney, junior and junior varsity team member. "Before meets, we all do a team cheer, and before each event, my friend Liz [Floersch] and I do a special handshake. It's a tradition that hypes all of us up for our routines."
The girls gymnastics season is nearing an end, but the next meet is Saturday, Jan. 20 at York High School.
Leave a Comment
About the Writer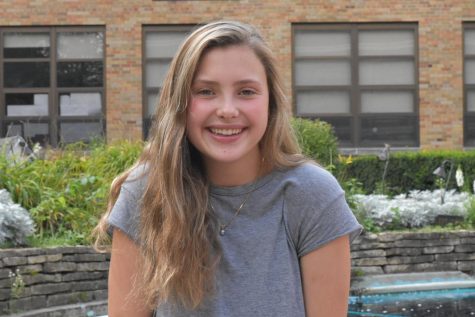 Leah Stevens, Section Editor
Leah Stevens is a senior who is constantly seen with a smile on her face and she loves to make people laugh. She lives by the motto "YOLO", and if you...