Boys gymnastics takes third at LTHS invite
On Friday, March 8, the boy's gymnastics team traveled to rival Lyons Township High School to compete in the LTHS Invitational Meet. As a whole, the team placed in third with 129 points in total.
"I know we competed extremely well as a team on Friday's meet. Everybody did their routines completely, with proper form and a few fails. We're not a super powerful team, but because we pulled together so well we got third place as a varsity team, which is much better than we expected," said Thomas Monson, senior.
This year's team is on the smaller side with eleven boys total coming from each grade. This is due to the fact that a lot of the team consisted of seniors last year. The boys practice every day after school until 5:30 p.m. They compete in a variety of different events, including pommel horse, rings, parallel bars, floor, and the vault.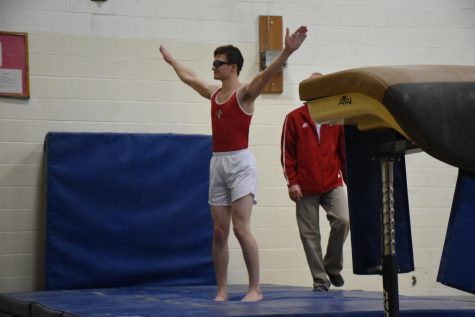 "I competed in floor for varsity and I did all right for my first time on Varsity. I didn't really care how well I did," said Conor Furlong, freshman. "The environment is really hype since they are our biggest rival; I talked to the gymnasts on the other team and had a lot of fun."
Many of the boys, including senior Eric Miscimarra, have to step up this year and compete all around instead of mainly competing for floor like he did last year.
"Our main goals are to do the best as possible and it is reflected in our motto, 'hit, form, win," where we try to finish our routines with good form. If we do that it is a win. This simple goal will help us as a team to state and be successful," said Herbert Wang, junior.
The next boy's gymnastics meet will be home on Friday, March 15 at 6 p.m.
Leave a Comment
About the Writer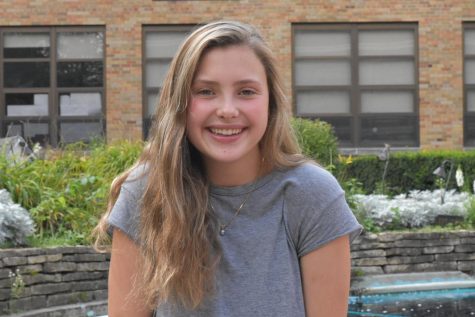 Leah Stevens, Section Editor
Leah Stevens is a senior who is constantly seen with a smile on her face and she loves to make people laugh. She lives by the motto "YOLO", and if you...