Athleta cloth masks are set apart from regular masks
Athleta masks, sold either on their website or OakBrook Mall, have over 2,500 five-star reviews for their breathable and fashionable masks that provide three layers of protection. The masks have an impressive balance between design and functionality, and many Central students and faculty use them.
"Thanks to the pleats, the Athleta masks fit well without gaps, and the straps are adjustable," said Mrs. Heather Fehrman, Honors Writing Seminar teacher. "I also like the clean lines and muted colors of the masks. There is a shade that goes with just about every outfit you might have."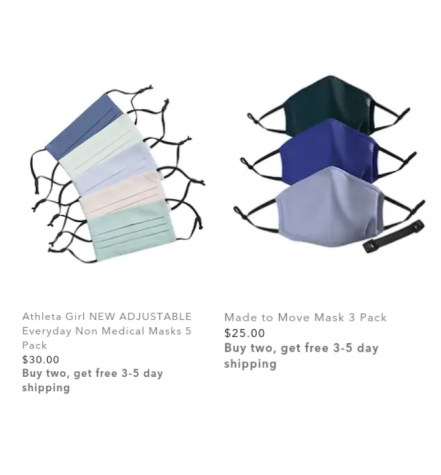 Athleta masks come in two designs and packages: their "Everyday Non-Medical Masks" sold in a five-pack for $30, and their "Made to Move Masks" sold in a three-pack for $25 that are perfect for physical activity. To provide extra protection, they offer ten mask inserts for $12.
"The Made to Move Athleta masks are especially useful at rowing practices when we do warmups as a group because they are easy to breathe in but also provide protection," said Kate Demakis, junior. "The mask colors fit perfectly with my athletic clothing."
The nose piece for all their masks is adjustable for maximum snugness and safety, which sets Athleta cloth masks apart from other mainstream masks. The masks also include a handy strap that allows users to hang the mask around their neck when they are not using it.
At school, it is crucial to take the necessary precautions against COVID-19 while maintaining comfort. Students and faculty should avoid touching their face and adjusting their masks as much as possible to minimize contact.
"The fabric is lightweight even with the triple-layer," Fehrman said. "They stay put and don't require lots of adjusting and touching of the masks as the day goes on."
While some enjoy Athleta cloth mask color choices and fashionable features, others use standard medical masks as their go-to choice of protection.
"I like the blue medical masks better than the cloth ones because they are more practical," said Samantha Gonzalez, junior. "For example, when I'm at school or taking the SAT and have to have a mask on for a few hours, it's best to wear the medical masks because the cloth masks can be suffocating."
Alongside their best-selling cloth masks, Athleta is donating 100,000 non-medical masks to an undisclosed healthcare organization supporting its essential workers. For more information, check out how Athleta is giving back to the community.
Leave a Comment
About the Contributor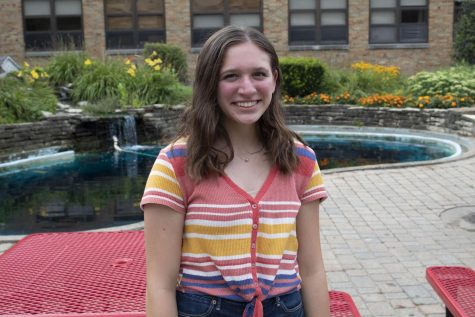 Natalia Berti, Section Editor
Natalia Berti is a senior who, when not chilling at a picturesque coffee shop or practicing her badminton footwork, enjoys re-watching the Avengers movies...