Top five most on-theme looks this year at the Met Gala
The 76th annual Met Gala was held at The Metropolitan Museum of Art on Monday, May 1. This year's dress code was a tribute to the late German designer, Karl Lagerfeld, named "in honor of Karl." Many celebrities attended the gala in their best dressed "Karl" outfits, paying tribute to such a powerful person in fashion history. Here are some of the top looks from this year's Gala.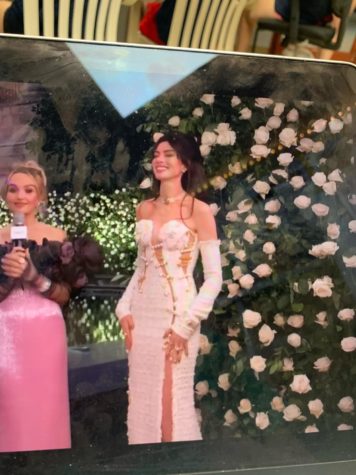 1. Anne Hathaway 
Hathaway wore a stunning look which incorporated Chanel's heritage traits. Wearing a strapless white dress with cutouts stuck together by gold safety pins. She incorporated the "Karl" look with her Versace gown. 
"My favorite look was probably Anne Hathaway, I loved the neckline and the gold accents," said Lauren Priest, senior. 
2. Dua Lipa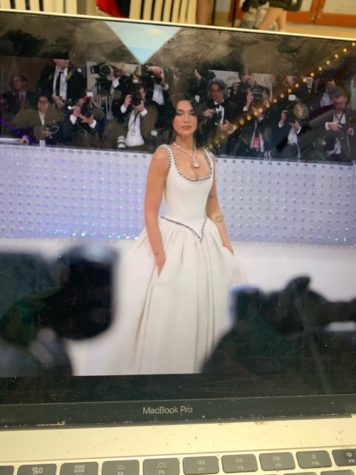 Lipa wore a Chanel FW92, originally worn by Claudia Schieffer in a bridal collection. This dress was designed by Lagerfield, although Anne wore slightly differently, adding various accessories. 
"Lipa's knitted corset gown was originally modeled by Lagerfeld's longtime muse, Claudia Schiffer, during the Chanel couture fall/winter 1992 show," said Rania Aniftos, journalist for Billboard magazine 
Lipa impressed many with her Lagerfield designed dress.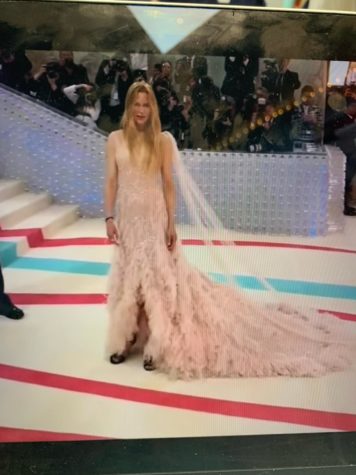 3. Nicole Kidman 
Kidman wore her 2004 Chanel No. 5 dress, which she previously wore in a campaign commercial for Chanel. The long and glittery dress was designed by Lagerfield himself. 
Nicole Kidman explained to Vogue the meaning behind her dress at The Met. 
"He designed a number of dresses for me, but I think this is the most spectacular," Kidman said in her interview with Vogue.
4. Emma Chamberlain
Chamberlain went for a timeless look this year at The Met, wearing an all blue attire with her cropped blazer and maxi skirt. Her look also included a white-raw hem edge with accents of silver buttons and jewelry.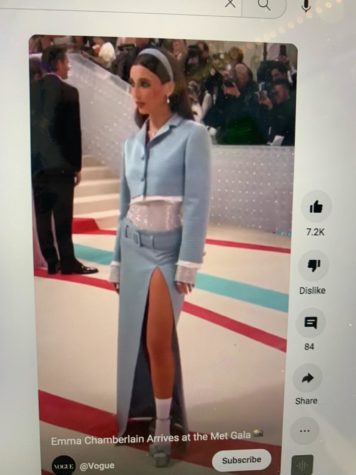 "I can't decide one favorite look, but it's a tie between Sydney Sweeney, Dua Lipa, Anne Hathaway, Emma Chamberlain, and Anok Yai," said Emily Pope, senior. 
5. Doja Cat 
Doja went for a unique look to commemorate the late Lagerfield. She paid tribute to Karls beloved cat, Choupette, by incorporating the animal into her look. Embodying his white Burmese cat, Doja added prosthetics into her attire.
"Doja and I agreed that we needed to do a thin and delicate cat-inspired eyeliner," said Ernesto Casillas, makeup artist.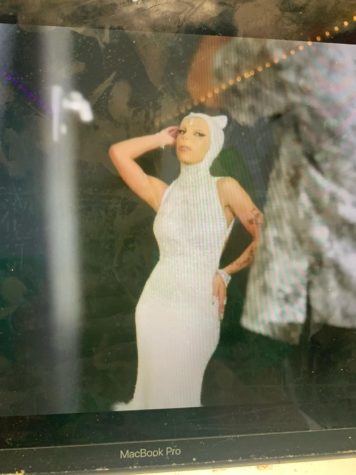 Others appreciated the distinctive look Doja had. 
"I found it cool that Doja came up with such a unique look that incorporated such an important part of [Lagerfeld's] life," said Ava Lynch, junior. "She did a great job incorporating this year's theme, which I think is super important."
Overall, many spectators enjoyed what celebrities had to offer at The Met Gala this year. 
"This year was so great and everyone looked very elegant, everyone also paid attention and did a nice tribute to the theme," said Lauren Priest, senior. 
To look at additional looks and styles, feel free to check out Met Gala 2023 Red Carpet Fashion: See Every Celebrity Outfit, Look and Dress | Vogue. 
Leave a Comment