Tell Your Story: it's knot as hard as it seems
The Tell Your Story event was held yesterday, Feb. 18, in the community room where ten students stood up to make their private stories public. The free event was open to all students, faculty, and community members. The theme of the event was knots, which was incorporated into all ten of the nonfiction short stories.
This was the second annual Tell Your Story event which is open to submissions from all grade levels. The topic changes every year, last year's being Waves. The event began last year through the vision of English teachers Mrs. Corelitz, Ms. Saunders and Mr. Bhatti. This year English teacher Mrs. Chandler also participated in setting up the event.
The stories were written by Kai Foster, Seetha Aribindi, Nicko Ledesma, Jack Kanzler, James Zhou, Armen Kelikian, Ann Steephen, Grace Hafner, Davis Miller, and Isha Kukadia. The authors each had a chance to share their stories in front of a live audience, but the event wasn't just about nonfiction stories. There was also live poetry, music, and plenty of food.
"I wrote about moving to Hinsdale and not knowing anyone and having knots [in my stomach]," said Ann Steephen, freshman, of her story The Moving Knot. "I decided to enter because I wanted to tell my story, and I was really excited to find out I had gotten in."
Nicko Ledesma, junior, is the author of A Whole Bunch of Knots, and had no idea he would win this competition. "When I first started this piece I was in a relationship and I felt very strongly about [my girlfriend] so I dedicated it to her."
But the stories and their authors were not the only unique parts of the event. There was a typewriter used as a guest book, and the community room, which is usually illuminated by bright light, was dimly lit with string lights on the floor throughout the edges of the room.
All of the above contributed to the coffee house atmosphere, but the addition of a Chicago music duo made this event especially interesting for students and faculty. Little Light, a singer/songwriter duo from Chicago, performed three original songs and consists of musicians Alain de Courtenay and Gia Margaret.
Leave a Comment
About the Contributor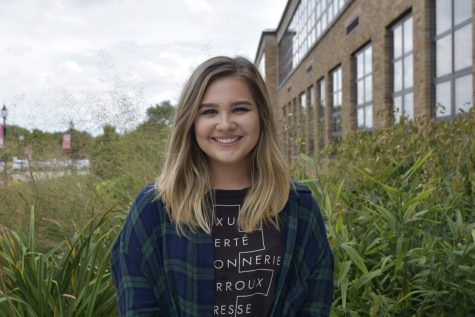 Riley Kowalski, Editor-in-Chief
Riley Kowalski is a senior who has immense difficulty writing about herself in the third person. Riley loves to drink coffee and take naps (in that order)....