Apps to help you connect with friends
On April 8, to help students out during quarantine, District 86 granted a request from students to unblock Netflix, Disney+, and Netflix Party on Chromebooks with the conditions that students maintain social distancing guidelines that were outlined by Principal William Walsh.
This access to the streaming sites acted as a way to help students follow the Governor J.B Pritzker's stay-at-home orders and help us find ways to connect with each other while not on campus.
Whether in quarantine or not, Netflix is always a good platform to kill your boredom. Now you can virtually watch movies with friends on your Chromebooks with Netflix Party.
It has many benefits. Up to 500,000 people can join and watch the same movie at once and it only requests one user's account.
However, Netflix Party can only be used on computers and now your Chromebook. Fortunately, other apps like Houseparty exist to allow you connect with friends on all devices. Similar to Facetime, Houseparty only limits to eight participants at once.
"Using Houseparty has been great during quarantine," said Aya Atassi, senior. "I still feel like I'm hanging out with my friends since we can talk in big groups."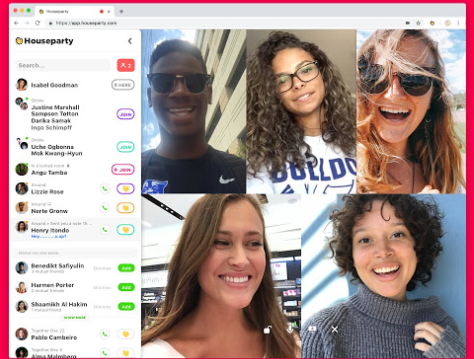 On Houseparty, anyone can join the app and connect with their friends through their contact information. Whenever you open the app, others currently on the app will be alerted that you are available to chat and you will be able to join the "rooms" or video chats that your friends are in.
Aside from talking to friends, Netflix Party and Houseparty have also been very helpful to Atassi when doing her school work because she can talk to classmates while working on assignments in case they don't understand something.
Houseparty allows for secret rooms where private chats take place, you can lock the room or invite people into the video call by virtually waving at them which will notify them or sending a link on a different platform. Not only can you talk to several friends at once, but you can also play virtual Houseparty games like "Heads Up" or trivia in each room.
As more apps like Netflix Party and Houseparty develop, staying in quarantine may become easier as we won't be completely isolated from our friends.
Leave a Comment