On Friday, Oct. 6, Drake released "For All The Dogs," his eighth studio album. The album included 23 songs and had a duration of one hour and 24 minutes. 
The album included collaborations with J. Cole, Yeat, Chief Keef, PartyNextDoor, Lil Yachty, SZA, 21 Savage, Sexxy Red, Bad Bunny and Teezo Touchdown.
"For All The Dogs" is similar to Drake's previous albums, most notably "Honestly Nevermind." The songs in these albums contain an uplifting tune, inspiring a lively and zestful mood in listeners.
Drake continues to bring back his old melodies and tunes in the song "8am in Charlotte." It is similar to his song "Champagne Poetry," which was released on his "Certified Lover Boy" album. In both songs, he discusses difficulties in his lifestyle and what he's currently doing.
Story continues below advertisement
"I feel like some of his lyricism and his subject matter has remained the same," said Ayla Mushtaq, junior.
"For All The Dogs" was packed with features, outshining Drake multiple times.
"The features carried hard through his songs in 'For All The Dogs,'" said Muhammad Alshahrour, junior. "They were the best part."
This album was also the first time Drake released a song speaking Spanish. The song "Gently" goes back and forth between English and Spanish. It starts off slow, introducing an uplifting bass beat midway through the song. 
With Bad Bunny being a collaborator, Bunny raps half of the song in Spanish with a similar rhythmic beat to Drake's part.
"I was very excited to listen to Drake's new album and my favorite song was 'Gently' featuring Bad Bunny," said Insiyah Mossabhoy, junior. "It made me want to dance and jig to the beat in the song."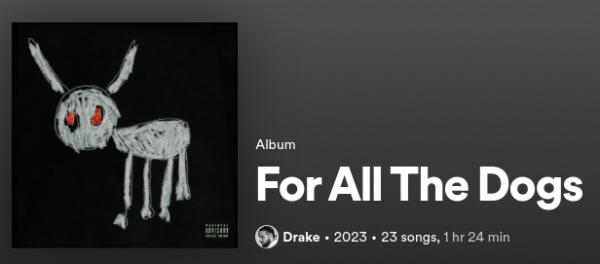 To listen to "For All The Dogs," click here.