Gaussians solves their way to success
On Tuesday, Nov. 3, Central's math team, the Gaussians, faced off against Hinsdale South, Downers Grove North, and Leyden District 212 at 5 p.m. to 8 p.m. in a math competition held at Hinsdale South. Participants worked together to solve complex math problems under a short time constraint.
Central scored first place in all events with a total score of 328 points, followed by Hinsdale South in second place with a score of 249 points. The different events feature individual competitions, two-person teams, relay teams, eight-person teams, calculator teams and oral competition.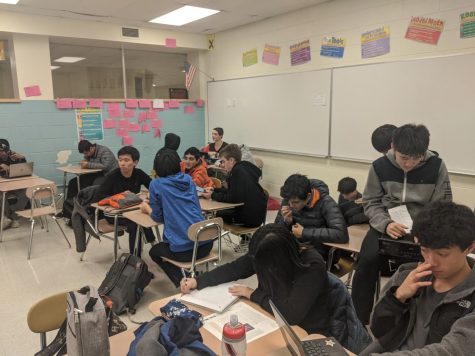 In an eight-person event, a group of eight people compete and get together around a table to solve problems together. There are usually 20 problems in about 20 minutes. The participants are encouraged to collaborate on each problem.
In a relay event, there are four people in a row with four different questions, where the first person finds the answer and passes it back to the rest of the team. Then, the second person's question relies on their answer and that answer is sent to the next person and so forth.
"Depending on what is coming up in that meet we will practice specific events as a team," said Ms. Alison Rogala, math teacher and the sophomore math team coach.
Freshmen compete in events mainly focused around Algebra 1 and sophomores compete in Geometry. Juniors compete in Algebra 2 Trigonometry and seniors compete in Pre-Calculus. However, many events combine both underclassmen and upperclassmen.
Many of the students who participate in the math team, including juniors Stella Dang and Alex Jin, participate in national math competitions such as the American Mathematics Competition.
Dang participated in a separate oral event on Tuesday, where Dang and her partner, Ryan Halpin, senior, solved a math problem and then presented their work to the coaches. Mr. Wilson, math teacher and oral coach hold separate practices with Dang and Halpin which meet outside of math team practice.
"I'm very interested in math and enjoy participating in math competitions both inside and outside of school," Dang said.
For placing in each event, the math team typically decides their roster at the prior practice. For tryouts, the math coaches hand each math team member a sheet of problems for their grade level and whoever scores the best on that test is considered for the roster.
"Usually since we have a fair number of people, the coach will try to put everyone on the roster," Dang said.
Bianca Chen, senior, participated in the individual and relay event, scoring first place in the relay with a score of 30. The individual events take 25-30 minutes to complete.
"This year I took stats [Statistics], and there is no math in that and I wanted to take more math," Chen said. "Yeah, I'm crazy."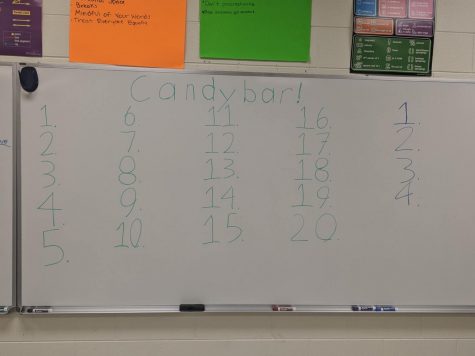 After everyone is finished competing, the math team participates in a bonus math challenge called "candy bar." While waiting for the coaches to grade tests, the math team answers 20-23 questions as a group within 30 minutes. The results from candy bar do not count towards official scoring, rather participants receive candy as a prize.
The questions for candy bar are usually harder than the other events; it is seen as a "challenge." Calculators are allowed for candy bar, and everyone in the room is welcome to collaborate. Usually, one team member will record the answers on a whiteboard and everyone will try to answer questions that have not been answered yet.
"We've won candy bar a lot of times," Dang said. "There was a meet where we went to the wrong high school so we didn't get any other award except for candy bar."
The math team has its regional competition and its West Suburban Conference in February and its state competition in May. The next math team competition is their conference on Feb. 11 at Willowbrook High School.
Leave a Comment
About the Contributor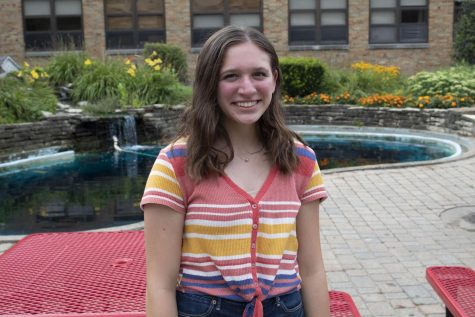 Natalia Berti, Section Editor
Natalia Berti is a senior who, when not chilling at a picturesque coffee shop or practicing her badminton footwork, enjoys re-watching the Avengers movies...