Hinsdale Central Swim and Dive Team takes second place at IHSA state meet
On Friday, Nov. 12 and Saturday, Nov. 13, the Hinsdale Central girls Varsity swim and dive team competed in the IHSA state finals at the FMC Natatorium in Westmont. Kit Schneider, junior, led Central to winning second place overall, tying with Barrington High School. 
Schneider swam her 50-yard freestyle in 22.98 seconds, earning the first place title in her race. Although her preliminary time was .03 seconds faster, she still beat the second place swimmer, a senior from University High School, by .20 seconds. 
"It's crazy, you know," Schneider said to the Daily Herald. "I don't really remember swimming it. I just remember before I was getting myself hyped up and during I was singing a song in my head and watching my whole team on the side."
Coaches Bob Barber and Steve Miller led the swimmers and divers to success throughout the 2021 season. 
"She's a stud," said Schneider's coach, Bob Barber to the Daily Herald. "She's a special swimmer. She gets behind her races and gets behind her team. We don't get a second-place trophy without a swimmer like that in our program."
Schneider, alongside teammates Caroline Kramer, junior, Lauren Biegel, senior, and Haley Dynis, senior, also led their team to victory when competing in the 200 medley relay. They placed second overall in their race with a time of 1:43.33. 
"Swimming is way more of a team sport than an individual sport," Biegel said. "I have made an unbreakable bond with my teammates because of this. All of our weekends have been dedicated to swimming so we get to spend a lot of time together."
More honorable events included Biegel placing fifth in the 200-free relay, Kramer placing fifth in the 100 breaststroke (1:04:05), Schneider placing fifth in the 200 freestyle relay (1:34:68), Schneider placing sixth in the 400 freestyle relay (3:29:42), and Kayla Teuscher placing tenth in diving.
"I swam both the 200-medley relay and the 200-free relay," Biegel said. "But my highlight from state was definitely watching Kit win the 50-free." 
The swim and dive team has had an extremely successful 2021 season overall. The swimmers were both WSC conference champions and Sectional champions this season. The divers also placed first at both the WSC conference and sectionals.
Leave a Comment
About the Contributor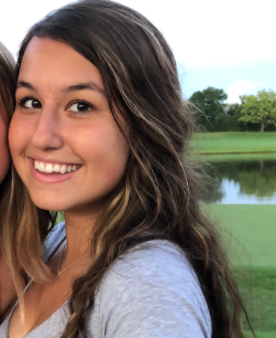 Taylor Fodor, Writer
Taylor Fodor, a senior at Hinsdale Central, is excited to be entering her second year on Devil's Advocate. She is a pommer at Central, and can be found...