On Friday, Sept. 8, the girl's swim team lost to Lyons Township 99-87.
This meet was filled with parents, students, and friends cheering from the bleachers from both schools. 
"Our dual meets against LT over the years have been epic and this one we will remember for a long time," said Coach Barber, head coach. "Even though we lost the meet in the end, we battled."
The team looks forward to interacting with other swimmers as many of the girls at the meet compete on the same club teams.
Story continues below advertisement
"This meet brings out the best in both of our teams and we enjoy our healthy rivalry," Barber said. 
Despite this rivalry, the schools aim to create a respectful and strong environment.
"I think the Hinsdale Central and Lyons Township rivalry is really fun and it gives both teams an opportunity to really give it our all and push each other to be the best we can be," said Lauren Lin, junior and varsity swimmer. 
At the meets, fans have several chants to support the team and get them excited before the event.
"There's three different chants called 'Red Hot', 'Devils,' 'Red White' and the diving cheer," said Elizabeth Lahmann, senior and varsity captain.
As a team, they use several other methods to invoke a sense of community and prepare for the match.
"Before any race, I really like listening to music with my friends and getting hyped as a team," Lin said.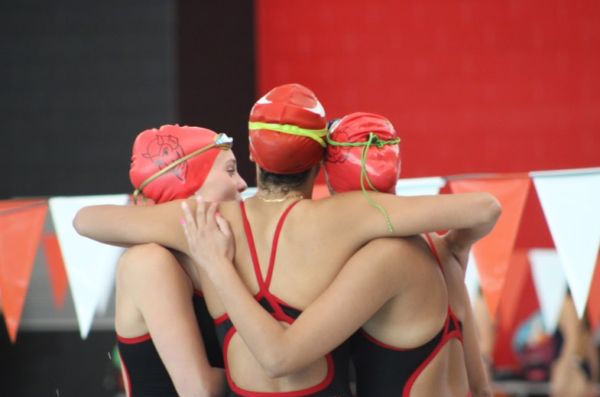 The swim team prepares for these big meets by having morning practices and after school practices.    
"Morning practices can be tough," Lin said. "We really try to give it our all even before a big meet because we're looking for the kind of improvement that will pay off in the long run."
The team also prioritizes rest time to ensure the group is well-rounded. 
"We encourage our team to get their homework done [and] focus on getting as much sleep as possible," Lahmann said. "Recovery is just as important as practice."
Barber said he is optimistic on the goals of the team and hopes to use this next year to accomplish them.
"We have a few things to clean up, but we have a lot of time to do so," Barber said.
The girls' next meet is on Thursday, Sept. 14 at Oak Park & River Forest High School. To view the team's schedule, click here.