On Nov. 10-11, the Hinsdale Central girls varsity swim and dive team competed in the IHSA state finals at FMC Natatorium in Westmont. Central won fifth at state with a total of 144 points.
The final relay race with the team of Elizabeth Lahmann, senior, Lilia Barber, freshman, Karina Miller, freshman, and Kamile Zinis, junior, completed their race and won third place with the time of 3:27.42 in the finals. 
Miller qualified for state and swam for the 200 medley relay, 100 free and 100 back during the IHSA meet. 
"I'm so excited to experience the atmosphere at state because I heard it's like no other," Miller said. "I haven't swam at state before because I am a freshman."
Story continues below advertisement
The team has three morning practices a week that start at 5:45 a.m. where they do either weights or swim.
"Being able to spend more time with my teammates is really fun because I've grown such a big connection [with] them," Zinis said.
Kelechi Ojiako, senior and varsity captain, mentioned her responsibilities as a captain and the many joys her role brings. 
"Keeping the team in check and making sure that everyone has the spirit to get through the week and allowing them to have someone to look up to is the best part," Ojiako said. "It's very nice to be an empowering figure for all of the other people on the team."
Other Hinsdale Central students from different swim teams attended the IHSA state meet to cheer on the varsity team from the bleachers.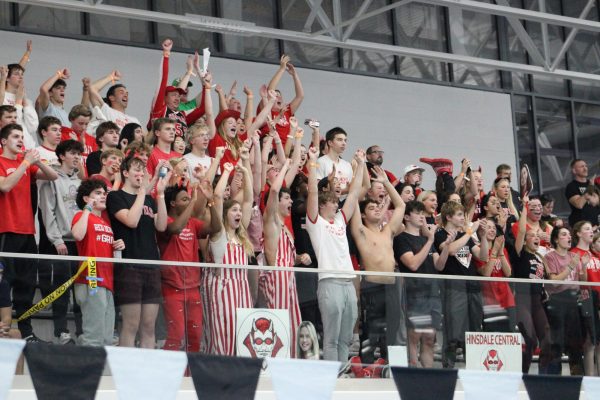 "Being very loud, hyping all of us up at the meet, motivating everyone and telling them good luck is very empowering," Ojiako said. "All my friends keep me going…and let each other know that we're in this together."
The team prioritizes community, working together to create a positive atmosphere even after an undesired outcome. 
"Even after a bad race, we always continue to cheer for one another," Zinis said.
To learn more about Central's swim teams, click here.