On Friday, Oct. 20, the girls varsity team swam for the 2023 West Suburban Conference Girls' Championship in Western Springs.
Varsity players participated in multiple events and were ranked the second highest, with Lyons Township ranked first.
Three other high schools competed, including York, Oak Park-River Forest and Downers Grove North.
"We compete against teams that are top five in state, which makes it difficult for us to stand," said Robert Barber, varsity head coach. "We're in a great place right now."
Story continues below advertisement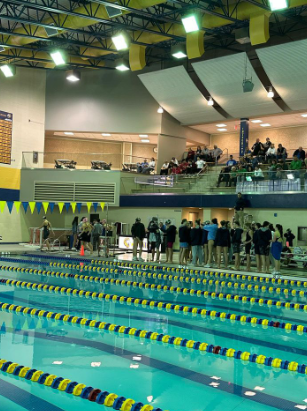 A high point during this meet was Burley Bokos, senior and varsity captain.
"An amazing highlight of the meet was Burley Bokos," Barber said. "[She] did a great job in swimming the 500 free."
Swimmers enjoy conference meets because of all the excitement from their fellow teammates.
"Conferences are so much fun," said Siena Allegra, junior and varsity swimmer. "It's so nice to see our group set the mood for sectionals."
To combat the competitiveness of conferences, the team supports each other, keeps a positive attitude and dances around.
"We love to put the same song in our [headphones] and dance with each other behind the blocks," Allegra said.
The team has morning practices to prepare for their conference meets and perfect all of their skills.
"Every morning practice usually starts off quietly as everybody is just trying to get through it," said Sarah Pelinkovic, freshman and varsity swimmer. "Once we all get together, we listen to music, joke around and just have fun while working hard."
The team is optimistic on their goals, and they work hard to improve their times.
"For the whole team, our goal is to just drop time and make lifetime memories with each other," Pelinkovic said.
The team plays next at Sectionals on Saturday, Nov. 4 at Hinsdale Central. To learn more about the varsity swim team, click here.