Red Devils react to the Cubs success
After 108 years, the Cubs are looking to win their third World Series. It's been a while, but they are the top seed and favored to win the series against Cleveland's Indians. Being favorites to win the championship, the Cubs are looking to finally end the drought that brought them and their fan base years of sadness.
At Central, fans are optimistic about the upcoming playoffs.
"The front office did a great job finding talent not only from this season but from the past five years through trades, drafts and free agent signings," said Evan Ostrowski, junior. "The coaching staff has been outstanding with Bosio, the pitching coach and John Mallee, the batting coach. Bosio is one of the most underrated pitching coaches in baseball because he made great pitchers out of Kyle Hendricks, Jake Arrieta and so many others."
The Cubs are one of the most exciting teams in the league because of their young talent. Their playoff loss in the National League Championship Series last year will serve them well, giving them the experience needed for a championship team.
Teachers are also involved in the baseball world, and some of them are excited to see the Cubs in the playoffs. However, Mr. Alan McCloud, science teacher, believes that there is something that sets them apart from previous teams.
"The talent, the hype and the success in the regular season [is what sets this team apart.] At least in most people's recent memory, the 1984 and 2008 teams had really great records and the 2003 team nearly made the World Series as well," McCloud said. "But on the heels of last year's success, with all these young players, the hype is enormous."
Not to forget, Central does have a large White Sox fan base. The long time rivalry may be too intense for some die-hard White Sox fans to cheer for the Cubs.
"As a Sox fan, I've never liked the Cubs and don't plan on rooting for them this postseason," said Jack Lane, junior. "A lot of people say you should just root for them and support Chicago, but that's just not right. There's an established rivalry between the two and I will always hold true to my colors in support of the White Sox. I respect those that follow team throughout the year and through bad times, but you're not a true fan if you just hop on the bandwagon because they're making a run in October."
Although the Cubs are favorites to win the Fall Classic, it won't come easy against a highly coveted Cleveland Indians team, who are seeking their first World Series since 1948.
Leave a Comment
About the Contributor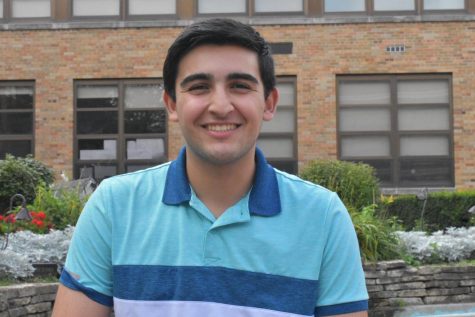 Ali Ardehali, Section Editor
Ali Ardehali, section editor for sports and A&E, is a senior who dedicates much of his time keeping up with the sports world. Despite recent struggles...