Review: J. Cole's "4 Your Eyez Only"
J. Cole is one of the most popular names in the rap game today. His name is among the likes of Kendrick Lamar, Kanye West, and Drake, and will possibly go down in history along with Tupac and Notorious B.I.G. He's one of few rappers to have all three of his major label albums to go platinum too. Given this popularity, his latest album 4 Your Eyez Only has been held to high standards.
Pitchfork's review is one that had as well. They gave it only a 6.7 out of 10, which is a weak rating, especially for such a popular rapper.
"Speaking of production, that's the one area where Eyez falls far behind Forest Hills Drive," said Paul Thompson of Pitchfork.
Thompson also says, "[His singing] pushes the middle section of Eyez to the sleepier side of the ledger."
Frankly, I beg to differ.
"For Mr. Cole, doing the least, it turns out, equates to achieving the most," said Jon Caramanica of the New York Times.
And I am in full accordance with Caramanica. 4 Your Eyez Only has a unique sound, and it sounds great.
"For Whom the Bell Tolls," his first song on the album, shows his uniqueness right off the bat because it isn't even rap. Cole, rather than rapping, sings to a beat filled with trumpets and bells, which gives it a 90s feel.
This 90s feel is made more apparent throughout the album. He raps over simple hard beats in "Deja Vu" and "Immortal." These are arguably the hits of the album for how hard the two songs go (due to their heavy beat and intense rap).
Sound aside though, they provide key insight into overall themes of the album. He explores the risks of drug dealing and then philosophizes about death in "Immortal." This reveals a narrative which is revealed by the end of the album.
"I made it home, woke up and turned on the morning news/ overcame with a feeling I can't explain/ 'cause that was my [friend] James that was slain he was 22," Cole explains in "Change."
"My worst fear is that one day you come home from school/ and see your father's face while hearing 'bout tragedy on the news," Cole says in "4 Your Eyez Only."
These two lines go hand in hand. Cole is rapping about the death of a friend, but in addition to that, the story of his friend's life. A friend who grew up in poverty, fought adversity, sold drugs, had a daughter, and was eventually murdered.
He uses this story of his friend to critique and explore the bigger problems of society today, which is exactly why it's such a great album. Even though it may sound different, it's politically-charged and shows meaning, which a lot of rappers today lack.
Leave a Comment
About the Contributor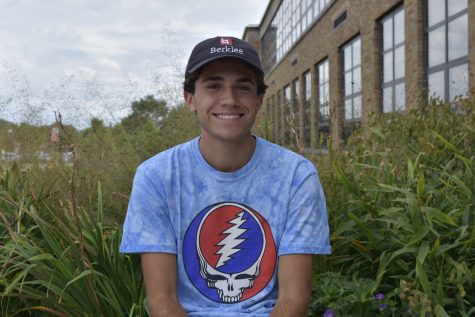 Jacob Belgrad, Writer
If you can't find Jacob at the skatepark, or at the Hinsdale central track, then good luck finding him, because as a lover of nature he's probably in the...