Review: Drake's More Life
2017 has seen the birth of a type of music that some derogatorily call "mumble rap". Rappers by the likes of Lil Yachty, Lil Uzi Vert, and Kodak Black have gained extreme popularity by pairing catchy beats with incoherent "mumbling". I myself happen to be a fan of this sub-genre. But for those who aren't, who want something unique, there is hope. Drake's "More Life" has arrived.
"More Life" is one of the most unique rap albums that I have heard in the last few years. Drake himself actually considers it more of a "playlist" than an album. This is a compliment to Drake's versatility, as in the album you can find relentlessly hard raps, sad R&B, and even Caribbean/Latin-influenced beats.
The classic rap can be found in songs like "No Long Talk", "KMT", " Gyalchester", and "Free Smoke". These all are reminiscent of songs that would appear in his album "If You're Reading This It's Too Late".
We can find the "Marvin's Room" type of Drake in songs such as "Teenage Fever", "Since Way Back", and "4422". Sonically, these songs are what you'd expect: sad and mellow, although, there is one anomaly (compared to the rest of the album, not Drake's whole career). Drake sings.
"One Dance" gave us a side of Drake that we had never seen: Caribbean-influenced Drake. Instead of trap beats, the song used piano, bongos, and claves (a Caribbean percussion instrument) which gave a new sound to a lot of his fans. Personally, the song kept me wanting more. Luckily, "More Life" has given us more. Songs like "Passionfruit", "Blem", and "Madiba Riddim" are the perfect encores to what Drake gave us with "One Dance".
All of the sonic positives that come from this change-up bring about some cultural questions. Drake doesn't even come from Jamaica or Barbados, he's from Toronto. So what's with this tropical vibe he's been experimenting with? I do think in a time like today, musical change is praiseworthy, but here it seems a little little forced, shown by the fact that Drake has even started speaking in a Jamaican accent.
That would be my one and only criticism, but it's easy to ignore. Not only because when I'm listening to Drake I don't really care about his genuineness, but because this album has so much more to offer. A wide variety of musical styles, great features like Kanye West, Quavo, and Young Thug, and catchy tropical beats (despite however forced and ingenuine they may sound) will surely mark this album as one of Drake's best.
Leave a Comment
About the Contributor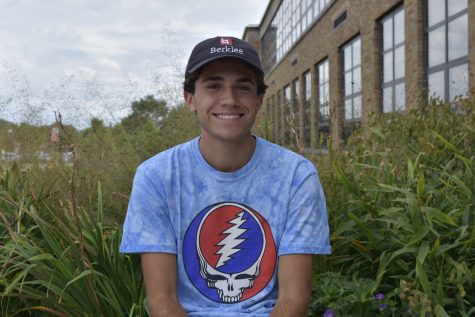 Jacob Belgrad, Writer
If you can't find Jacob at the skatepark, or at the Hinsdale central track, then good luck finding him, because as a lover of nature he's probably in the...