Pitbullpalooza
Naperville Ribfest: Lollapalooza with less drugs and more ribs. This superior four-day festival that's right in our backyard announced recently that international superstar Pitbull will be headlining the main stage on Thursday, July 5, and Hinsdale Central is buzzing.
Walk around the hallways, and you will hear murmurs of Pitbull and Ribfest. When tickets went on sale, many teachers complained that students kept pulling out phones and chromebooks without permission to go to the Ribfest webpage. However, I understand the predicament. Everyone wanted to secure their four-day passes before they sell out; it's not our fault they want on sale during class.
"We do not deserve Pitbull. His timeless music has brought people together. He is a gift from God," said Emily Goggin, junior.
Pitbull, better known by his stage name Mr. Worldwide, is an A-list pop star who has one Grammy, four Billboard Music Awards, and three MTV Music Video Awards to his name. He has released classic songs such as "Timber", which currently has over 1 billion views on YouTube and is used for dance routines in Central's group exercise classes.
"When I think of Pitbull, I immediately think about his adlibs. Dale, and Mr. 305 come to mind," said Chinmay Amin, sophomore.
To prepare for this festival, one should book a hotel room at either at the Hotel Indigo Naperville Riverwalk or at the Stardust Motel. You don't want to worry about commuting from Hinsdale every day. Make sure to book a room early though, since people from all around the world will make the journey to Naperville.
"Michael Jackson is gone. Tupac is gone. Biggie is gone. David Bowie is gone," said Matt Lorenz, junior. "Pitbull though, he's still standing."
It is also important to dress in proper festival attire. Boys should either wear an oversized basketball jersey or an unbuttoned Hawaiian shirt. A fresh pair of Jordans is also recommended. Girls should wear a crop top and jean shorts, with body glitter and flash tattoos to complete the look.
Don't miss out on this incredible opportunity to see Pitbull – the man, the myth, the legend – perform live at Naperville Ribfest; get your tickets today. Oh, and I guess Steven Tyler will be there too.
Leave a Comment
About the Contributor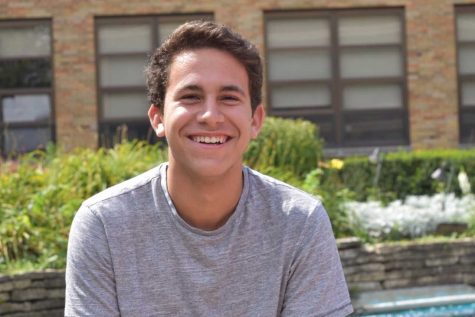 Brandon Belgrad, Writer
Brandon Belgrad, senior, is often spotted running through the streets of Hinsdale. He is a part of the cross-country and track and field teams. Along with...