Young Thug's Slime Language: An Underwhelming Project
Jeffery Lamar Williams, better known as Young Thug, dropped a 15 song album titled Slime Language on Aug. 17. Slime Language is Young Thug's 12th project, with his most recent being "Hear No Evil", which was released in early April.
Young Thug is one of rap's biggest influences, both musically and culturally. He started the trend of mumble rap, and through his painted nails and cross-dressing, he made self-expression in the rap industry acceptable.
The first track "Tsunami", features Young Thug singing his soul out. The beat is a typical trap beat, but has tropical keys playing in the background and fits well with the singing. "Tsunami" starts the album out strong, and the next two songs "U Ain't Slime Enough" and "Gain Clout" keep the momentum going. "Gain Clout" is the standout of the two, as Thug shows off his highly skilled flows over a fast and aggressive beat.
"Gain Clout is my favorite track from this album. It is really fast, and Thug shows off his insane rap skills," said Cole Harris, junior.
The fourth song, "Oh Yeah", in my opinion, is the first bad song on this album. There is no other way to put it, it's just boring. Fortunately, the album picks back up with the fifth song "Audemar". The highlights of "Audemar" is Thug's vocals, which go from a cookie monster sound to erratic screeching.
Songs like "Audemar" is where Thug sets himself apart from other hip-hop artists. In this song, he uses his voice as a second instrument, and his voice mixed with the hard beat makes "Audemar" a banger.
The sixth song, "Chanel", is just OK when compared to the rest of Thug's work. Although he performs well, the two features from other rappers Lil Baby and Gunna just feel forced. Forced features are what plagues this album, as every song has a feature. Young Thug tries to promote up-and-coming artists from his label in this LP, but most of the time the features underperform. This is true for track seven, "Dirty Shoes" as the Gunna verse once again is not good.
Track eight "It's a Slime" is just OK, due to rapper Lil Uzi Vert's underwhelming feature. The next song "Scoliosis" has another Gunna feature, and Thug outshines his feature once again.
The album officially enters a plateau, as tracks 10 and 11 are both not good. Track 12, "Chains Choking Me", turns the album back around, though, as Thug and Gunna have good chemistry in this song. This song is addicting, as Thug uses his high pitched hums to ride over the spacey beat. The thirteenth track, "STS", is the slowest, and has an R&B vibe to it.
The fourteenth track, "Expensive" is unique because Young Thug isn't in it. The rappers on this track are Hidoraah and Dolly, two female rappers who both hold their own.
"This song surprised me as there is no Young Thug in it. It was just all right, and had Thug been on it it would be a good song," said Julia Krauski, senior.
The final song, "Slimed In", is a good closer to this album. It has a heavy beat and is by far the hardest song on this album.
Ultimately, the main problem with Slime Language is that the features artists cannot compete with a very mediocre Young Thug. Thug underperforms, as he does not bring his wild vocals and energy to this album. Also, some of the tracks contain explicit language, so it is not recommended for all ages. Overall, I'd give Slime Language a 6.5/10.
Leave a Comment
About the Contributor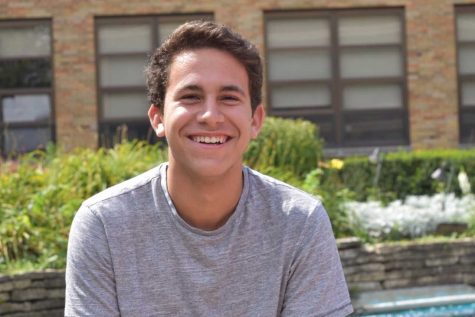 Brandon Belgrad, Writer
Brandon Belgrad, senior, is often spotted running through the streets of Hinsdale. He is a part of the cross-country and track and field teams. Along with...