Girls Swim and Dive team lose to LT
On Friday, Sept. 28 at 5:00 p.m. the Girl's Varsity Swim Team lost to Lyons Township by a score of 128 – 58. At the same time, the diving team lost to LT who got first, second, and third place.
"The dual meet against LT always brings the best out of both of our teams. We [are best in the] postseason when we have a chance to race them," said Coach Robert Barber, head coach. "Although we swim at or near our best, we never compromise our end of year goals to do so."
One highlight from the meet was when senior varsity swimmer Kiernan Lynch placed second in the 200-yard freestyle with a time of 1:59.40.
"Our relays swam extremely fast for this time of year, especially our 200-yard and 400-yard Free Relays," Coach Barber said. "The girls on that relay swam a tough race losing by only a tenth."
The relay team which consisted of Lynch, Lainey Quinones, sophomore, Anna Gruvberger, junior, and Rachel Fuechtman, senior, placed second in both of the 200-yard and 400-yard freestyle relay with a time of 1:39.51 and 3:41.69.
"It's a comfortable, loving and accepting team and that makes our relays stronger and our team stronger as a whole," Gruvberger said. "I can count on my teammates and they can count on me to put our best effort forward and leave it all in the pool no matter what."
Gruvberger got first place in the 100-yard butterfly with a time of 58.17 seconds. LT varsity swimmer Callahan Dunn set a new Central pool record in the 200-yard individual medley with a time of 2:06.92.
"LT has fast swimmers and a lot of them," said Christina Kaufman, senior varsity swimmer. "They are a team that is very well rounded and have a ton of individuals that can swim strongly in every event, which we lack on our team."
Many swimmers from both schools swim together on travel clubs during the high school offseason, making the meet between the schools more competitive.
"[This] makes it more competitive because you know how those girls train and what event they swim," Kaufman said. "However some girls you know their name because they are at the top of the state for swimming, which also makes it competitive because you want to try to beat a girl who you know is fast in that event."
The swim team's next meet will be at home on Friday, Oct. 5 at 5:00 p.m versus Oak Park-River Forest while the diving team will take on OPRF at Lyons Township south campus.
Leave a Comment
About the Contributor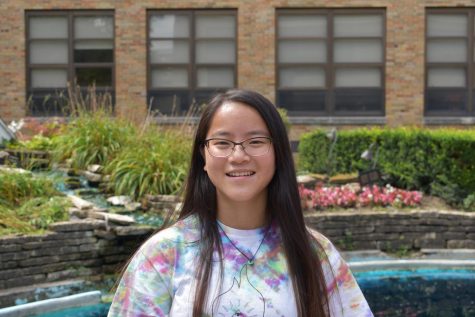 Lia Reichmann, Editor-in-Chief
Lia Reichmann, senior, is well versed in anything to do with Friends, Harry Potter, and sports. She likes to go backpacking and taking photos (follow @liareichmann_photography...