Girls' basketball dunks on Alzheimer's
On Tuesday, Feb. 2, the girls' basketball team faced off with their fiercest rival, Lyons Township. Although cross-town games are always exciting, this game meant a lot more for the players on both teams. The schools took the opportunity to turn a popular game into a fundraiser for Alzheimer's, a disease that affects more than 5 million Americans.
Alyson Chatterjee, junior, was the main student organizer for the event. For Chatterjee, the cause was very personal.
"My grandmother has dealt with Alzheimer's for the greater part of several years, and her disease has affected my family tremendously," Chatterjee said. "A lot of teams do breast cancer awareness nights, so I wanted to do something different that still meant a lot."
In preparation for the event, the girls' basketball teams of all levels sold raffle tickets for several prizes, most notably for a Hoverboard and a Derrick Rose autograph. The tickets helped raise more than $4,000 for Alzheimer's research. The gym was also decorated with purple streamers and balloons, representative of the color commonly associated with the disease awareness. The first 250 attendees received free purple t-shirts.
"The event was super successful. We had a pretty good turnout of people, and I know many were excited to support a different cause," Chatterjee said.
The game itself was exciting for attendees, with a close score throughout the game and a tied score during the fourth quarter. Although the Devils lost in overtime, 48-44, the game was still a win for their cause.
The Alzheimer's Association worked directly with the girls to make sure the funds were put to good use, and an organization representative shared information and common misconceptions about the disease during halftime right before the raffle drawing.
"It was a really good idea, and a fun game to watch," said Jill Schlais, junior, who attended Tuesday night. "I was glad to come out and see everyone coming together, regardless of their school." 
Leave a Comment
About the Contributor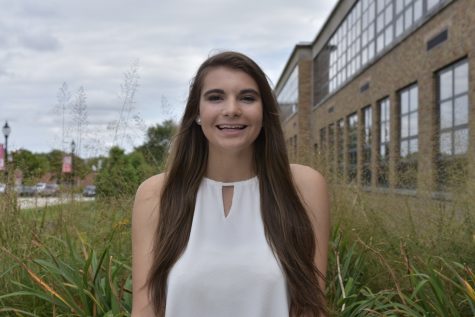 Shannon Ging, Sports Editor
Senior Shannon Ging loves writing for Devils' Advocate, especially if it is about sports. She spends most of her time cheerleading, whether it's for the...