Girls' swim and dive team takes home win against LT
On Friday, Oct. 11 at 5 p.m., the girls' varsity swim team faced off against Lyons Township at LT's South Campus. The team won the meet with a score of 108-78. Parents and students cheered from the bleachers, heightening the energy between rivals LT and Central.
"We had so many amazing swims but one swim that really stood out to me was our freshman Kendall Pickering [who] broke our freshman-sophomore team record in her [200-yard individual medley] with a [time of] 2:07," said Anna Gruvberger, senior varsity team captain. "The meet was a lot of fun. It was great to get behind our team and cheer as loud as we could."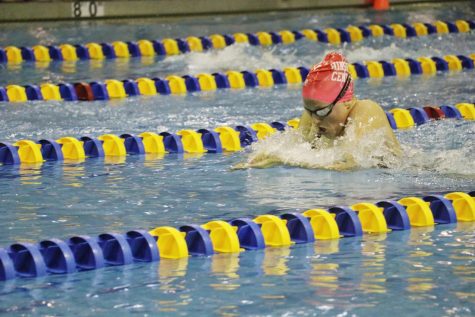 Molly Bruns, senior junior-varsity (JV) captain, came in second place in the 200-yard free-relay with a time of 1:49.16, moving the JV team up four points in the meet.
Central's and LT's swim and dive teams are very close in level, skills and capability, making it a close call point wise for match ups. However, Central still ended up in the lead for the majority of events.
"I think that at LT, we represented ourselves really well as a team and showed the amount of depth and talent we have," Gruvberger said. "If we didn't win the events, we out-placed them by getting 2nd or 3rd in the same event."
Jen Hou, junior JV swimmer, said the team spirit is pushed by the competitive environment.
"No matter how tired everyone is, they still have the energy to get excited to swim," Hou said. "The coaches for both teams make their most competitive line-ups and try their hardest to win. People from both schools come and watch and their cheering gets everyone hyped."
The varsity swim team practices around five times a week depending on the meet schedule, with dry land, physical training outside the pool, two times a week.
However, in the off-season, many swimmers compete on the same club teams with girls from LT. Varsity swimmer, Lindsey Theoharous, junior, notes the friendly competitive nature teammates share with rival LT.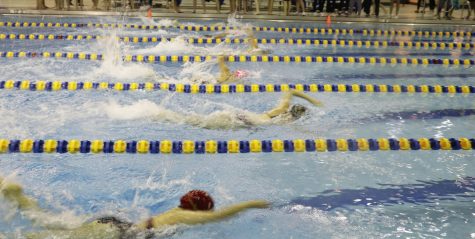 "On our club teams, the LT girls are our teammates and friends," Theoharous said. "So during [the] high school season, swimming against them is just so much more fun because you actually have a connection with the girls you're swimming against."
The team's bond is an important aspect of their success.
"We always play music on the bus on the way over which is pretty hype, but I think the most important way we hype each other up is by cheering everyone on," said Megan Michaels, junior varsity swimmer. "Knowing that LT is such as tough team and that we didn't want to lose, we really had to give it our all and race hard, which I think everyone did."
The swim and dive team's next meet is away at Oak Park-River Forest on Wednesday, Oct. 16 at 5:00 p.m.
Leave a Comment
About the Writer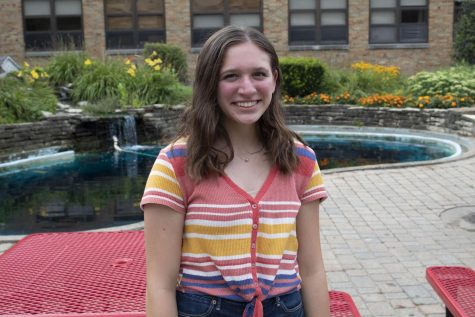 Natalia Berti, Section Editor
Natalia Berti is a senior who, when not chilling at a picturesque coffee shop or practicing her badminton footwork, enjoys re-watching the Avengers movies...