A sweet option
It's never too late to start eating right and nutritious, but it's hard to eat clean when eating out. However, there is a solution to this problem; Sweet Tomatoes is a healthy all-you-can-eat buffet with a salad, soup, pizza and dessert bar.
As I walked into the restaurant on a Sunday night around 7 p.m., I noticed it was crowded and only had around three unoccupied tables. This didn't surprise me, for everything is so fresh and tasty I'd expect this restaurant to be packed at any time. The first thing you see when you enter is a 45-foot long salad bar full of fresh vegetables and toppings to build your own salad.
First, my friend and I constructed our salads starting with spinach, lettuce, onions, tomatoes, cucumber, chickpeas, mushrooms, feta cheese, peas and kidney beans topped with olive oil. Now there are a lot of dressing options, but there are also healthy substitutes, such as olive oil, red wine vinegar, rice wine vinegar and balsamic vinegar.
Next, we made our way over to the soup bar. Although there is no limit in how many bowls of soup you can take, I only tried the turkey chili soup. The turkey chili soup was amazing and flavorful with a lot of kidney beans, oregano and chili powder. Each spoon was a blast of flavors in your mouth. At the end of the soup bar, there are toppings to top your soup. I chose to mix in some sour cream with my chili, which added a little more thickness. My friend chose the Irish potato leek soup. It didn't feel too heavy or fattening. Overall, the soup bar was healthy and tasty with what felt like endless options.
Aside from the salad and soup options, there is a bakery bar which consists of different types of pizzas, pastas, muffins and even a baked potato bar with toppings. I chose to try a regular cheese pizza, and my friend took a slice of the garlic cheese pizza. The cheese pizza was very delicious with the right cheese to red sauce ratio on focaccia bread. Also, I tried the mac and cheese and garlic rosemary pasta. The mac and cheese was sort of plain with not much flavor, but it did taste very light and fresh out of the pot. On the other hand, the garlic rosemary pasta was much more flavorful, for mac and cheese isn't meant to be bursting with flavors like garlic rosemary pasta that had just the right amount of garlic.
Finally, the dessert bar consisted of pineapple upside down cake, fresh chocolate brownies and fruit and soft-serve ice cream with toppings. I have never tried pineapple cake, but it was delicious with the caramelized sweet pineapples. The fresh brownies were also mouthwatering as we saw them come fresh out of the oven.
All in all, our experience at Sweet Tomatoes was terrific and the staff was very welcoming and friendly. I definitely recommend this restaurant, for it is a great, nutritious option that leaves you feeling guiltless. Sweet Tomatoes is located at 2820 S. Highland Ave. in Lombard. 
Leave a Comment
About the Contributor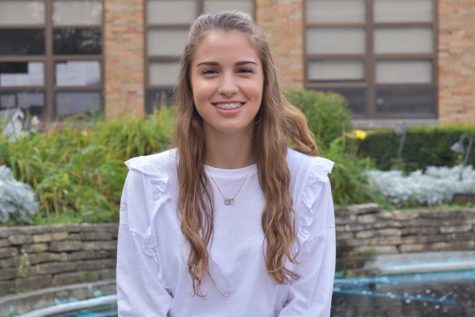 Samia Douedari, Section Editor
Samia Douedari is a senior who enjoys to write whether it's for a class or for fun. Along with being a part of the cross country and track team at Hinsdale...